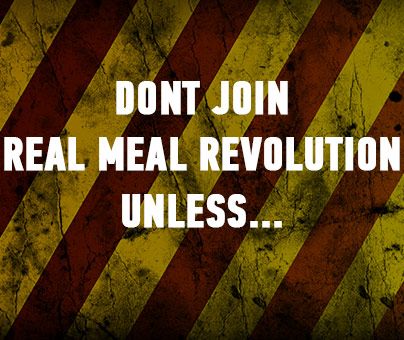 11 Oct

Why join Real Meal Revolution?

We ask you to join all the time. What's in it for you?

We'll let the stats speak for themselves.

Two months into the program, members receive a survey to report on their progress. This survey makes up only some of the data we use to analyse the effectiveness of our meal plans, recipes, and certain phases and so on.

We ask six simple questions:
Have you lost weight since joining Real Meal Revolution?
Have you lost centimetres/inches?
Would you recommend joining RMR to a friend?
Do you feel supported by the RMR team?
How much weight have you lost in your first eight weeks?
What are the biggest positive changes you have experienced while on the Program?
The results are staggering.
Have you lost weight and centimetres?
They answers to the first question, 'Have you lost weight?' we were intriguing. Considering the fact that the first eight weeks for most people are spent in Restoration (not the weight loss phase), 87% success is much higher than we thought it would be.
And the 12.3% of people who didn't lose weight (which mirrors the amount of people who didn't lose centimetres) is due to a number of things. Here are just five reasons people don't lose weight on our program.
Not sticking to the right lists in the right phases
Medical complications and medication that prohibits weight loss
Banting simply doesn't work for some people
And of course, a lot of people join RMR for health reasons with no interest in weight loss
Regardless, we'd bet on you with odds like 87 to 13.
Here are the charts from our system.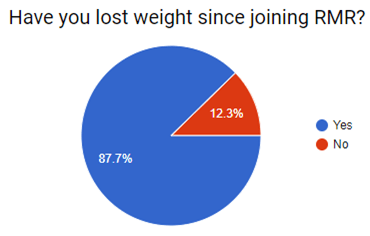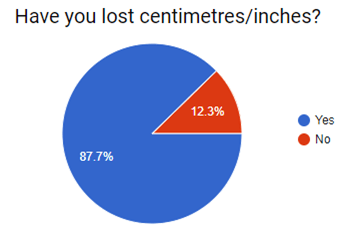 The next question is a basic customer satisfaction survey.
Would you or would you not recommend our program to a friend?
Weird that even though we had 87.7% of our customers lose weight, we actually had 94.7% of our members said they would recommend joining Real Meal Revolution to a friend.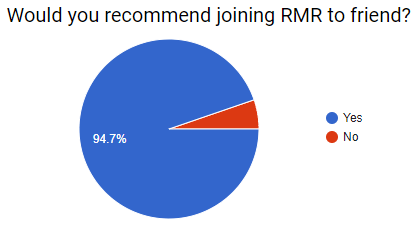 Do you feel supported?
The final multiple choice question was about our support team. 90% of our members gave an outright yes to feeling supported. 2% said they don't feel supported while the remaining 8% said they had either not made contact with support, or made their own plan.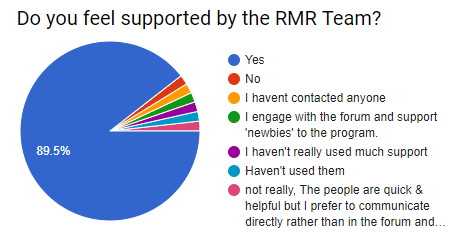 But how much weight did they lose?
The answer that everyone has been waiting to have answered, however, is one about hard figures. Sure people lost weight, but how much and how long did it take.
Well, remember this survey goes out after eight weeks. The first week is Observation. Restoration (not the weight loss phase) lasts anything from two to 12 weeks. Then only do members get into intense fat burning mode.
Regardless the average weight lost in eight weeks on the program is 5.8kg (and that includes the 12.3% who didn't lose weight at all).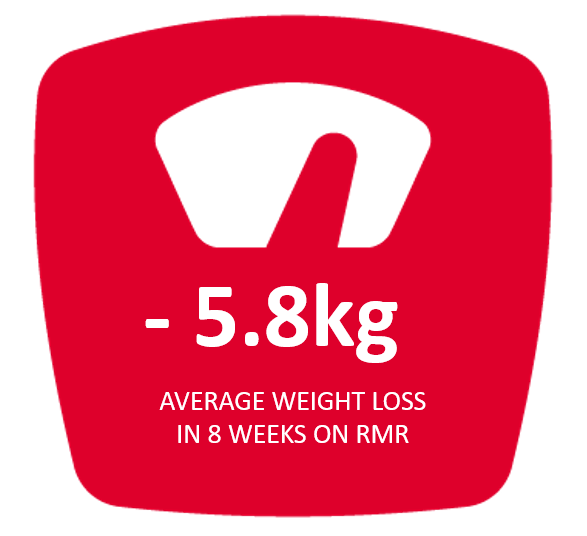 Finally, here is a summary of the answers to the final question:
What are the biggest positive changes you have experienced while on the Program?
Weight loss
Increased energy levels
Fitting better into cloths
No more heartburn
Blood pressure has come down and is now under control without medication
Stopped being depended on food and having to snack all the time
No sugar and carb cravings
So why would we ask you not to join our program?
The data paints a very clear picture. Those who do the work, get results.
If you are not 100% committed to making changes, sacrifices and taking the time to cook real food, you might be disappointed with your results.
The program will not do the work for you. It is a tool, a guide and a resource to empower you to make better choices and improve your health and lose weight.
When you do, you will be rewarded, and perhaps even a little surprised at the amazing results you will achieve.
So if you think you're up to the challenge, join our Program. We dare you.
Nay.