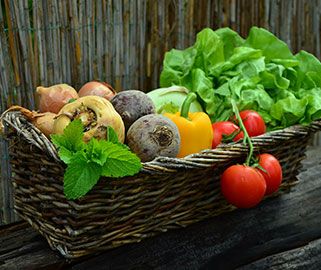 31 May

Fibre-rich Foods (Prebiotics) on the Banting Diet

Fibre-rich Foods, one of the myths about low carb diets, and Banting in particular, is that when you stop eating carbs, you stop getting fibre. That's nonsense. The majority of the food you eat will be vegetables that are high in fibre, otherwise known as 'prebiotics'.
Four Reasons we need prebiotic foods in our diet:
They feed the good gut bacteria – which improves not only digestion but overall health.
They help to reduce carb absorption – lower blood sugar and insulin and therefore help protectagainst insulin resistance.
They slow down food absorption – leaving you fuller for longer.
They stimulate more effective peristalsis – which moves foods through the intestine, ensuring optimal absorption of nutrients while getting rid of any toxins and undigested food.
There are heaps of them available on the Banting food lists and most of them sit on our Green and Orange lists.
To make it even clearer, we have added a key to the latest rendition of the Banting Food Lists, in the top right hand corner which you can see below:
As you can see in the below cross section of the lists, we have labelled all of the prebiotic foods with a (p):
List of the best prebiotic Banting foods:
Avocado
Asparagus
Artichokes
Basil
Beans
Berries
Cabbage
Carrots
Cauliflower
Chard
Garlic
Gem squash
Kale
Broccoli
Leeks
Nuts
Onion
Oregano
Parsley
Peppers
Radishes
Sesame seeds
Spinach
Sunflower seeds
Sweet potatoes
What about fibre supplements?
You can supplement with fibre like psyllium husk capsules or some fibre shakes, but this will not provide the nutrients that vegetables will. We strongly recommend you get your fibre from real foods.
How much fibre do I need?
Aim for at least one cup a day, but three is preferable. Remember that you will need to box smart with this depending on which phase of Banting you're in. We advise following our meal plans to make sure you are getting enough fibre, while keeping your carbs low. The other alternative is to use a meal tracker until you get the hang of it.
To hear what some of our members had to say about our low carb meal plans and Banting recipes, and the impact they had on their lives check out these Banting testimonials.
Real Meal Revolution is a healthy eating program that uses low carb recipes, practical Banting meal plans, simple lectures, entertaining cooking lessons, state-of-the-art tools, a bustling community and professional remote support to deliver a four phased diet program. The most delicious way to reach your awesome weight and stay there forever.
Join Real Meal Revolution today if you want to transform your life, your weight and your health.