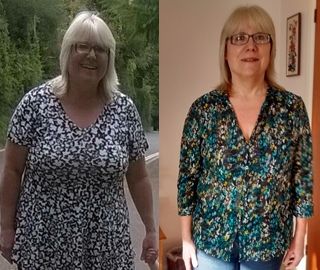 19 Feb

Karen's Amazing Banting Journey

I truly believe that Banting has saved my life! Here's my story.

I am 54 years old and married with two grown-up sons. I have been seriously overweight since infancy – the bullying that I experienced at school and comments from well-meaning adults seriously affected my confidence as I grew up.I have yo-yo dieted many times over the years, but have never managed to keep the weight off; from liquid diets and diet pills to virtually starving myself, nothing worked. Although, I have never considered surgery because I have seen people who have had it done also regain weight. I have suffered a lot of depression because of my weight and blamed it for anything that went wrong in my life. I heaped guilt on myself every time a diet failed, and I just couldn't explain to anyone about the terrible food cravings, which were impossible to ignore.

In 2007 I spent a fortune seeing a private nutritionist at weekly meetings and managed to lose over 7 stone (44.5kgs) by 2009, reaching 161 pounds (73kgs) and a size 14 (UK). I felt fantastic and managed to keep that weight off for about 12 months, but then the terrible cravings started coming back and so did the weight. The cravings were so bad that I would stop off at garage shops in between jobs to stock up on crisps and chocolate to keep me going until the next meal! I yo-yo'd again over the last 4 – 5 years and at the beginning of last year, I had regained 65 pounds (29.5kgs). My confidence was at rock bottom, I was feeling absolutely desperate and thought there was nothing that could help me. I had sustained a knee injury about three years ago, which stopped me from walking long distances and I had to stop cycling (which I love) because of the pain – there was nothing that could be done surgically to help me; I was just told that I would need a full knee replacement one day. Everything was looking so bleak, I couldn't exercise, and I couldn't lose weight and keep it off – and at my age that was really beginning to worry me.

Then at the end of August 2015, a friend in Canada sent me some information about a low-carb, high-fat (LCHF) diet – she was following a programme by Dr Jason Fung. I watched all of his lectures and learned about insulin resistance and carbohydrate intolerance – it all made perfect sense. I just knew that this is what had been happening to me for all these years. I can't begin to tell you how excited I was! I started introducing a LCHF diet gradually, and the weight started dropping off – I felt euphoric and completely in control for the first time ever. It was difficult to get my head around eating saturated fat, but I loved the food, so it wasn't hard to eventually leave all those bad carbs behind.

Around this time I went to see my doctor about my knee – I needed another cortisone injection to manage the pain – and I told him about this LCHF diet that I was starting. He is a South African and he told me to watch Professor Tim Noakes' video on YouTube called 'The SkinnyNews'. I bought the book 'The Real Meal Revolution', which I loved and then found out about the Real Meal Revolution website. I signed up for the free week and have now completed the five-week course. I have been so impressed with the excellent value for money that this course gives from the instructional videos, recipes, meal tracker, supplementary material and the amazing chat forum. The advice and support I have received from experienced'Banters' on this forum, both in group chat and in private messages, has been amazing and has helped me understand so much. I hope that I can help others in the same way one day. I have converted a few people at my work; they have all been amazed at my weight loss, and the compliments I get are great!
I started Banting properly on 10th October 2015. In three months I lost 42 pounds (19kgs)! I truly believe that this has saved my life. My knee is so much better, and I don't need cortisone injections anymore. I cango for long walks again and next Spring I hope to get back on my bike. My blood pressure is 110/70, the best it's ever been.
I had an extremely successful Christmas and New Year holiday and lost 5.5 pounds (2.5kgs) over the two weeks. My BMI finally fell below 30, which made me very happy.
My weight loss is now like a steam train; there's no stopping it! I'm now in the overweight category, and my BMI is 28.49. Less than six months ago I was in the "morbidly obese" category.
I have suffered from terrible insomnia over the years (especially during the menopause) and have needed to take medication for many years to help me sleep – I have now stopped this medication and am sleeping like a baby!
Interestingly, my mum told me recently that when she weaned me as a baby, I would urge on savoury foods. She was advised to give me custard with finely chopped fruit in it, so I think this must have started off my lifelong struggle with insulin resistance because I just kept putting on weight throughout my childhood. All that is history now – I am finally looking forward to the future with hope and knowing that I am in control of what happens to my body. I get all the motivation I need by keeping in contact with the chat forum and watching all those great videos again when I feel I need a top up. My husband is also incredibly supportive and we are enjoying cooking a lot of the delicious Banting meals together.>
One of the best things from joining this online program is that I've made a new friend and, although she lives on the other side of the world to me, we are in regular contact and support each other along the way – we have very similar stories and are both doing incredibly well on the Banting lifestyle. I hope we will be friends for life!
Massive thanks to Prof Noakes, Jonno and everyone on the Real Meal Revolution team – including the tremendous support I've received from everyone on the forum; I really couldn't have done it without you all. I wish I could have gone to the Prof's hearing and shouted it out to all the people who are against him – I'd also like to give the Prof a big hug!
Happy Banting Everyone!
Karen Ogier