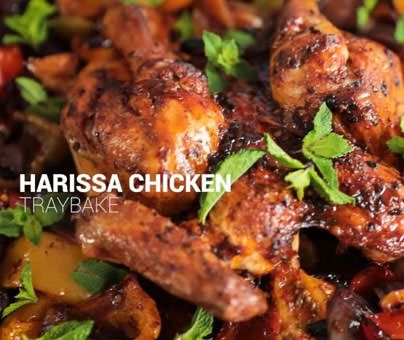 08 Sep

Jamie Oliver's Harissa Chicken Tray-bake

(serves 4-6)

Harissa Chicken – We just got a copy of Jamie's latest cookbook, 5 Ingredients. He put this video out explaining how to make one his good and easy recipes and guess what – it is Transformation friendly.

Ingredients:

1 large whole chicken

1 aztec slot
3 assorted peppers (red, yellow and green)
2 red onions
2 – 3 tablespoons Extra Virgin olive oil
2 tablespoons red wine vinegar
4 teaspoons harissa paste
a handful of fresh mint leaves
salt and pepper

Method:
Preheat the oven to 180C.
Remove the seeds from the peppers and tear them into rough sized chunks and place them in an oven tray.
Peel and quarter the red onions. Separate the petals from onion quarters and toss together with the peppers in the oven tray.
Season the onions and peppers well with salt and pepper, and toss in the olive oil and red wine vinegar.
Spoon the harissa onto the vegetables.
Slice the chicken down its back and open it up. Score the legs a few times with a knife.
Place the chicken on the vegetables and rub the harissa all over the chicken and the vegetables. Season the chicken well with salt.
Place the tray in the preheated oven and roast for 50 minutes.
Remove the chicken from the oven, place on a board and serve with the cooked vegetables.
Pour the remaining sauce from the oven tray over the chicken and vegetables and garnish with fresh mint leaves.
Harissa Paste Recipe (Makes 200ml)
Ingredients:
1 red pepper
½ teaspoon coriander seeds
½ teaspoon cumin seeds
½ teaspoons caraway seeds
1 ½  tablespoons olive oil
1 small red onion, roughly chopped
3 cloves garlic, peeled and roughly chopped
3 hot red chillis, seeds removed and roughly chopped
1 ½ teaspoons tomato paste
2 tablespoons freshly squeezed lemon juice
½ teaspoon salt
Method:
Char-grill the pepper under a grill or in the flames of a gas burner until the skin completely blackened.
Place in a bowl covered with plastic wrap and allow to cool.
When the pepper is cool, remove the seeds and the skin.
Add the olive oil to a pan and gently fry the onions, garlic and chilli until soft.
Add the spices and cook for a further minute.
Place the ingredients from the pan and the remaining ingredients into a blender and blend until it all forms a smooth paste.
Add a little extra salt or olive oil if needed.
Store in a sterilized jar in the fridge for a few weeks and use as needed.