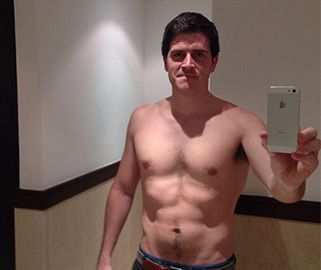 02 Dec

Week 9: Cravings, Fasting and Winning

In last week's blog post, I got hit with the realisation that I only had four weeks left to achieve my goal of having a six-pack by 21 December 2015. My shape hadn't budged for three weeks as a result of a string of injuries and some nasty food poisoning that I encountered.

Because I needed to trim some fat quite fast, I decided to take some of the advice we give and cut out dairy. You can read that blog post here and the remaining posts here from weeks one, two, three, four, five & six and seven

In last week's blog post, I cut out dairy. The results speak for themselves.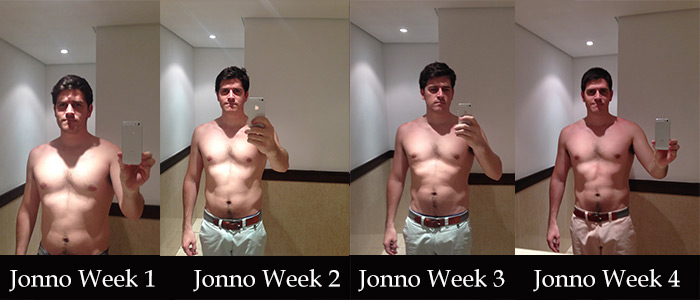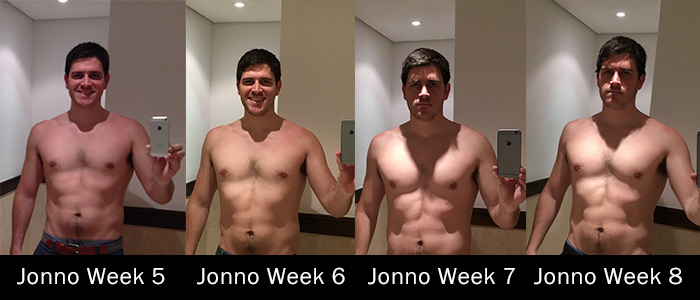 My colleague, Rob, who is obsessed with athletics and Banting has been getting steadily more ripped over the last few weeks. Rob has also been training with me at Black River Crossfit. I asked him for some tips and he suggested that I try intermittent fasting (IF) if I wanted to give myself the extra edge.
I had a google and it turned out that Hugh Jackman is an avid intermittent faster. The best example of his fine form would be in the latest Xmen movie where he played Wolverine. Wolverine is well known for being a good specimen so I'd trust his advice. I took up the challenge and Rob gave me these pointers.
Rob's Four Really Dumbed Down Rules of IF:
1.    Bant (goes without saying).
2.    Eat two or three reasonably sized meals a day.
3.    Make your last meal the largest of the three.
4.    Make sure there is a 16 hour gap between your last meal of a day and the first meal of the following day. Fast for 16 hours, then eat in those following 8 hours.
I did exactly that. It worked. It also wasn't as tough as it sounded (If you have a big dinner at 6pm and then eat breakfast at 10am. That is 16 hours).
But here's the thing. The fasting isn't tough. Banting and high intensity training is tough. I'm not that hungry, but I am craving like a mad man.
Last Monday, I started training harder than ever. My body and mind told me they were desperate for carbs by driving my imagination wild with forbidden cheat foods. I usually have control of my imagination, but last week I actually started smelling and tasting the foods I was fantasising about.
I am a chef and I have been fortunate to taste some amazing things. The problem is the memories of a lot of the things I have eaten are stuck in my long term memory. It's not the fine dining fancy-pants foods I crave. I crave foods that remind me of experiences. They all remind me of the places I've been, the experiences I've had and the people I love.
I couldn't shake the cheat foods from my imagination so I wrote them down. I did it for a few reasons:
1.    I didn't want to forget the delicious foods I love so that I could remember what I should eat the next time I have an epic cheat day.
2.    With my experience in conflict, addiction (my mother is an addiction counselor) and general problem solving, writing stuff down tends to help me get a handle on things
3.    I thought if I could remember the foods I love to cheat with the most, I might be more discerning when I'm faced with cheat foods that are less superior.
What ended up happening?
Writing my list was like lighting the fire with a long lost lover. Everything I was thinking came to life as I wrote. The page puffed mini clouds of sugary carb-scented aromas into my nose. My mouth watered. I was able to visualise the 21st of December when my six-pack challenge would be over and I could decide which one of these delicious treats I would break my fast with.
Later that day, I read the list again, almost as though to play with my emotions. I read it out loud to my wife and a few friends. I was hoping their mouths would water too so we could jointly feel the pain I was enduring.
They were all relatively unimpressed.
I read it to myself again. Second time round, I was also quite unimpressed. The third time, I was numb. It could have been a page of keyboard specials on Amazon.com. The foods that aroused every sense I had were now just words on a page. In that moment, my cravings went away.
A few days later, so did another layer of body fat.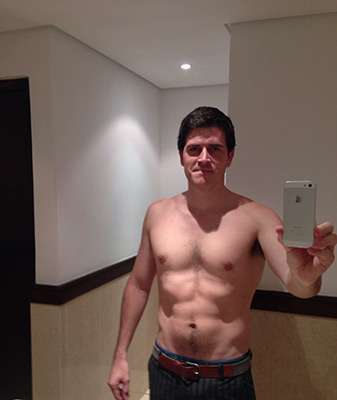 My advice would be to keep writing down the cravings each time they pop up, so that eventually you have a whole list of powerless cravings. This list could help you realise that you are far stonger than your cravings.
Have an epic, craving-free week,
Jonno
P.S. If you want to see what I was craving, here's my list:
WARNING: THIS LIST WILL MAKE YOU CRAVE – PLEASE WRITE YOUR OWN LIST TO ANNUL YOUR CRAVINGS.
Massimo's Pizzaria (Cape Town) – Italian fennel-sausage meat, chili and onion, tobacco sauce, tons of black pepper
Jason's Bakery (Cape Town) – Cronut. This is a doughnut made with croissant pastry. Seriously.
Ou Meil Bakery (Riviersonderend) – Babotie pie
Vida e Cafe (Anywhere in South Africa) – Chorizo and mozzarella croissant, toasted
My good friend Sarah du Preez – Canadian peanut butter cookies with earl grey tea for dunking
My house (My recipe) – Pancakes filled with rum flambé bananas and caramel treat with vanilla ice cream on the side
My house (Kate's recipe) – Tea loaf with sliced butter and crispy bacon
Fat Cactus, Kloof Street (Cape Town) – Chili con carne tacos, guac, tomato salsa and sour cream with a massive jug of lime and strawberry frozen Margarita
My House (Kate's recipe) – Freshly baked scones with strawberry jam and whipped cream
Any dodgy café in Cape Town – Sweet processed hot dog roll with sliced butter, and cheese and onion Simba chips
Butlers' Pizza (Cape Town) – Funky FABB extra chilli (Feta, Avo, Bacon and Butleritos/Peppadews™)