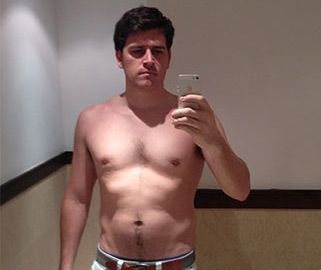 19 Oct

Week 3: How I feel

Two weeks down and my arrogance is astounding.

How do I feel? Like an idiot.

There is never a goal that everyone enjoys achieving the whole way through. You think about something you want, and you aim for it, but the work it takes to get there only dawns on you when you're trying to keep life the same and your goal starts getting in the way.

My life before that blog post was chilled. I played a casual game of squash every Sunday and I enjoyed a Sunday night pizza. I've now gone from sleeping till 7:30am, sometimes, to waking up at 6am, religiously, and getting into gym by 7am, in time for a ruthless assault on myself in the form of intense exercise.

So what is arrogant?

When I used to look at all the people working out, running in the roads, training on their own in the courts, I almost shook my head, arrogantly. "Life is too short," I would tell myself. Those guys could be doing so much more with their time than just exercising.

The irony is that they were probably thinking the same thing. They were in there doing the work, looking back at me thinking, "life is short man, you need to look after yourself".

When I got to work, I was starving. When I got home to help my wife with the baby, I was exhausted.

For the first week, I thought I had made a huge mistake; I saw myself as being built for comfort not for speed. The truth is, after two weeks of exercising, I feel like a new person.
I feel like a better human in every aspect of my life.

In just two weeks, the exercise is helping me sleep better and wake up more easily. I can focus harder for longer at work. When I get home, I have more energy and patience with my four month old, ridiculously cute, daughter.

Because I'm fitter, I can hold the baby and bounce her to sleep on the Pilates ball without breaking a sweat or getting frustrated. I also have energy to help more in the kitchen, and in the home. All of that from just two weeks of exercise. Now I'm thinking, how productive will I be in 10 weeks?




I'm in the Banting game. I helped invent it. Well, the newer version anyway. I've been telling people I Bant at about 85%, but now that Ihave this challenge going on, I've been playing closer attention.
We have a rule at home that we Bant when we cook. When we entertain, we often make a treat for our guests (which we eat too) and when we eat out or at friends' houses, we eat what is on offer. The thing is, we eat out at friends or entertain five nights out of seven. In the last two weeks, it dawned on me how bad a Banter I have been.
So, I've been tracking my meals again for this challenge and it turns out that I've been an awful Banter. I thought I was pretty good, but I've found it really hard to stay strict.
We say to everyone that you don't need to exercise to lose weight. I agree. Since I started exercising, I've been absolutely starving. I can eat forever. I was hoping to lose a few kilos, but actually, I've put on weight. But, I've gotten thinner. It's important to note that for all those people who start a diet and an exercise routine at the same time, you will put on weight. But, you will get thinner, which is the thing that actually matters.
Weight is not the measurement you should be looking at; it's centimeters. If you want to lose weight to look better, you don't actually want to lose weight. Looking better is something a mirror can tell you, not a scale. So, if you want to track your progress better (and not kill yourself or put on weight), toss out the scale and get a tape measure.
Those are my epiphanies this week.
Happy Banting.
J