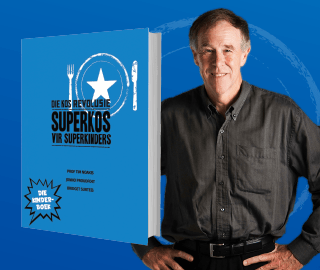 03 Dec

Superkos vir Superkinders

'Hierdie pragboek is prakties en inspirerend en bevat smullekker resepte sowel as wetenskaplike navorsingsresultate' – Rooi Roos

Great news, just in time for Christmas! Raising Superheroes is available in Afrikaans. Get in now at Takealot.com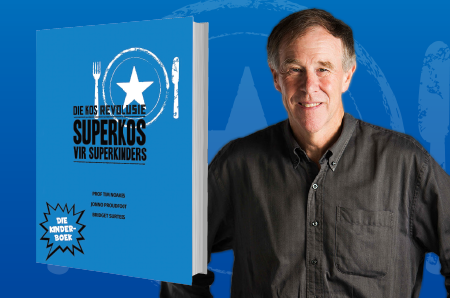 Here's an excerpt from our Publishers,, "Superkos Vir Superkinders, die opvolgtitel van Die Kos Revolusie, is 'n kookboek oor 'ware kos' wat ouers raad gee oor dieet en voeding, sowel as resepte wat hulle in staat stel om hulle kinders so gesond en slim as moontlik groot te maak.
Die Kos Revolusie het die wêreldwye vetsug-epidemie aangespreek met 'n revolusionêre benadering tot eet: dit het diepgewortelde oortuigings uitgedaag, was (en bly steeds) 'n rekordverkoper regoor Suid-Afrika, en het mense se lewens verander. Met Superkos Vir Superkinders beoog die skrywers 'n revolusie in kindervoeding. Hulle glo dit is tyd om die kindervoedselbedryf sowel as ons uitgediende aannames daaroor uit te daag – tyd om ons kinders die beste voeding en die beste wegspring in die lewe te gee.
Superkos Vir Superkinders is nie 'n Banting-kookboek nie, en gaan nie oor 'geen-koolhidrate' voeding vir kinders nie. Maar deur 'n 'ware kos' eetplan wat laag in suiker en verfynde koolhidrate is, te bepleit, verteenwoordig dit Die Kos Revolusie se volgende stap om die wêreld te verander. (Nog meer sal volg!)"
Set your New Year's resolution now. Sign up for our 5-week online Banting Program in December and only start in January. As our Christmas gift to you, we'll throw in a 20% discount and a FREE TWO month subscription. Offer ends on Christmas Eve. So don't miss out.