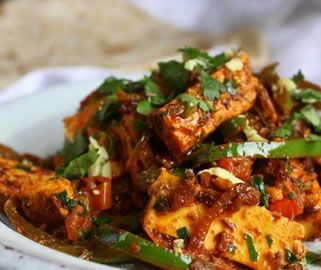 06 Nov

Paneer Jalfrezi by Maunika Gowardhan


Paneer Jalfrezi

Serves 1
Ingredients:
230gms paneer diced in cubes
3 tablespoons coconut oil
1 teaspoon cumin seeds
1 medium onion, thinly sliced
2 cloves garlic, finely chopped to a paste
1 teaspoon paprika
1 teaspoon ground coriander
¼ teaspoon ground turmeric
1 medium green pepper, seeds removed and thinly sliced
1 small tomato, sliced
Salt and pepper
1 inch ginger, sliced into slivers for garnish
1 tablespoon lemon juice
A handful of fresh coriander for garnish
Method:
Heat a heavy bottomed sauce pan on a medium heat and add the coconut oil.
Add the cumin seeds to the hot oil in the pan and fry for about 30 seconds.
Add the onions to the pan and fry them for 2-3minutes.
Turn the heat down a little.
As the onions start to soften, add the garlic paste to the pan and continue frying for a few more seconds.
Stir the spices into the onions and garlic in the pan and fry for a further minute.
Add in the peppers and stir well to combine them with all of the spices. Continue cooking for 4-5 minutes.
Once the peppers are soft, add the tomatoes and cook them until they are slightly softened. Finally add the paneer cubes to the pan and stir well to coat with all the spices.
Cook the jalfrezi for a few more minutes and season to taste.
Stir in the ginger and lemon juice, and garnish with fresh coriander leaves.
We add five new low carb recipes and one new Banting meal plan to our program every week. Find out more.