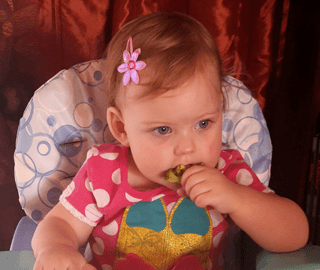 03 Dec

Raising Children on Real Low-Carb Food

"It's so funny. When people hear we are Banting some still say, "Surely your children aren't Banting with you?!" And my reply always leaves them speechless, "No, are you insane? We are Banting with the children. "

Lynette Barkhuizen did the Real Meal Revolution Online Program in May 2015 and it turned her whole family around, for the better.

When her baby girl was born, they feared that she may have been born with diabetes, but thankfully she wasn't, she was just highly sensitive to certain foods. At 11 months old, she couldn't tolerate carbs very well. She was allergic to baby formula, cow's milk, soy and even some of the immunisations she had to have. Her pancreas and spleen weren't coping with the baby food and in desperation Lynette went to a specialist who recommended Banting.

Lynette's only choice was to cook baby food herself, which she did with pride.

At the time she was very sceptical about Banting, and especially Banting for babies. But, she says that while growing up her family always did the"low fat thing" and were always overweight, so she had nothing to lose.

She was willing to give anything a try for her baby girl and if it wasn't for our Online Program, she says that she would never have made it. "Just the right information at the right time to slowly open your eyes whilst you can see and feel the difference."

It wasn't easy at first because she had to stop everything that shefed her baby. She started giving her baby avo and broth for a few weeks, "not having any teeth wasn't very helpful," says Lynette. "But we had a content baby who wasn't hungry and who didn't have to battle with blood sugar fluctuations every day."

"Today we have a Banting 18 month old that loves broccoli and cauliflower (to the amazement of everyone) She is healthy, happy, full of life and content. What more could I want?"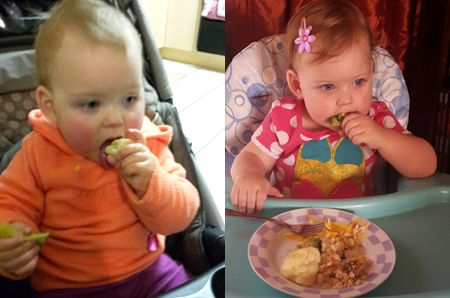 "Currently, baby eats anything on her plate, as long as there is some grated cheese. Other favourites are strawberries, avo and a nice Banting smoothie, which is definitely a lifesaver."
Lynette says that if parents and teachers could only see the difference in behaviour that results from eating LCHF, they would refuse to let their children eat otherwise.
On occasion, her baby goes to crèche for a few hours. Once, the teacher gave the food Lynette packed for her one glance and decided to give her mashed potatoes instead. Lynette says that her baby instantly turned into a "purple minion". The teachers couldn't believe it, but know now never to make the same mistake again.
At the same time Lynette also decided to put her five year old daughter onto low-carb, which was a bit more difficult because while all the other kids were eating school meals and especially sandwiches (which her daughter loved), she had to eat something different. The other kids teased her about eating her own food – but thankfully she got through it.
Although her five year old does sometimes eat "no-no" things, she once said to her mom, "Mommy, my tummy doesn't feel very well, I don't want that anymore I'm just going to eat Banting food now."
Lynette also stated that for the first time in her own life she was able to follow a positive lifestyle change for longer than four hours a day.
"Always on diet from 6am til 10am and always increasing in size. Now six months later I have lost 20kg (okay 19.8kg), I am 5kg from my goal weight, feeling great and weighing less than I did when I attended University, 12 years ago!"
Lynette ends off by saying, "I can only thank you for not keeping Banting to yourself. It takes real courage to stand up in public and say I was wrong. And even if they stone Prof with koeksisters, they will never stop the rest of us, who are slowly but certainly, "taking over the world, one meal at a time. Thanks for changing our lives!"
Start changing your family's lives for the better by signing up to our Online Program.