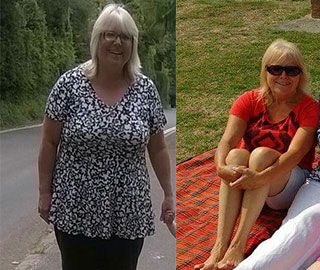 06 Sep

One year of Banting, 40kgs lost, but a new lease on life gained

We have been following Karen's Banting journey in awe and excitement of all of her changes and improvements.

"I am now 12 months into the low-carb, high-(healthy)-fat lifestyle (LCHF), and I am over the moon as I'm now within the weight range for my height. My BMI is under 25, and I am buying UK size 10/12 clothes!  It is an amazing feeling not being classified as overweight anymore as I have been seriously overweight since infancy.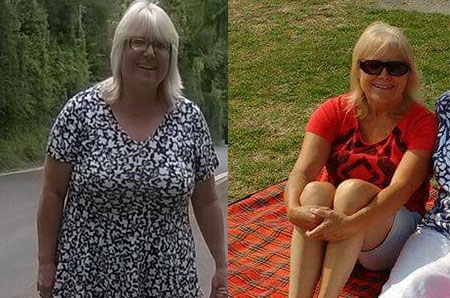 In August 2015 I weighed 231 pounds (105kg) – I was at rock bottom as a longstanding knee injury was causing me a lot of pain and mobility problems; needless to say, that at 53 years old I was extremely worried about what the future held for me. I had lost weight many times in the past but would always regain it, plus more, because all of the terrible food cravings just kept coming back with a vengeance (which I now know to be sugar addiction). I just didn't have strong enough willpower to fight the biological processes going on internally as my body fought to regain the weight I had lost.
I now weigh 145 pounds (65.9kg), a total weight loss of 86 pounds (40kg). 
I aim to lose another 5 pounds (hopefully off my belly!), but I am in no rush and I have been maintaining my weight for the last three months – this in itself is an achievement. In the past I've either gained or lost weight, I've never been able to stay at a constant weight.
The best thing about this lifestyle is that while losing all of this weight, I have never felt hungry, even though I've been eating really yummy food like avocadoes, green veggies fried in butter or coconut oil with prawns, chicken or wild salmon. It's amazing what you can do with a cauliflower! But, best of all has been having cream in my coffee! My bank balance hasn't suffered either because the high fat content means you literally can't overeat, and my portion sizes have dropped dramatically.
I have had three monthly blood checks during the last 12 months and in April this year my total cholesterol was 9.23 which was rather concerning, to say the least.  Thankfully my G.P. is Banting friendly, and he encouraged me to keep going but suggested that I cut back a bit on dairy.  I was reassured by the RMR team that while losing weight quickly, as I had been doing, my cholesterol would go up and I should wait to do further blood tests until I had been maintaining for at least four weeks.  I was on cloud 9 when I had blood tests done again in June, and my total cholesterol had gone down to 7.74 and my triglycerides were 0.55 (which means I'm producing the good fluffy cholesterol LDL particles). 
I've recently had another x-ray and scan on my knee – the damage is now severe, and there is a lot of arthritis. However, I am no longer in pain, and I do not have to take all the anti-inflammatory medication I needed, just to get through the day.  I am enjoying walking and cycling around this beautiful island I am fortunate to live on, AND I am even going swimming; something I just couldn't face doing before because I was just too big to be seen in a swimsuit! 
The best thing of all is that I am completely medication free.
Once again I would like to thank the RMR team for their amazing, value for money, website – I still couldn't do without the Meal Tracker as it is making maintenance so easy.  Although I no longer need to use it daily, it helps to get me back on track if I've had meals out or if I've been on holiday.
I also owe thanks to lots of people who have helped me succeed on this new lifestyle. My friend, Lynne, in Canada who first introduced me to the LCHF lifestyle; so many people on the RMR forum whose advice and support has been invaluable; Sheryl, who lives 6,000 miles away from me, in Sydney, but who I feel I've known forever; and Monique, a fellow UK Banter who I'm looking forward to meeting next week!
Huge thanks must also go to my lovely husband, Mark, who has been by my side literally through thick and thin for over 30 years often having to live with a depressed and despairing wife. It has been fun learning all about this lifestyle with him and cooking Jonno's delicious recipes together.
And finally but by no means least, my heart is full of praise and thankfulness to God for his unending faithfulness and provision for me and my family."
Congrats to you Karen, what a transformation – you look amazing! We wish you further success and weight maintenance in the future and look forward to hearing how you get on.
To read Karen's full story, click here.
If you would like to start your own Banting journey, sign up to our Online Program, where you can also make use of tools such as the meal tracker and connect to like-minded people on the forum.
Group support has been proven to be more beneficial than doing it alone. If you need help on your Banting journey join one of our Real Groups run by a Certified Banting Coach.