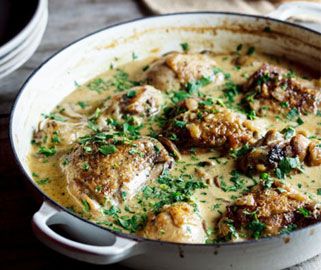 06 Nov

Nigel Slater's Coq au Riesling cooked by Alida Ryder

Coq au Riesling

Serves: 4
Ingredients
50g butter
1 tablespoon olive oil
2 onions, finely chopped
125g streaky bacon or pancetta, sliced into thin strips
4 garlic cloves, peeled and thinly sliced
8 chicken pieces on the bone (leg and thighs)
250g portabellini or chestnut mushrooms, sliced
500ml Riesling or any other dry white wine
250ml cream
salt and pepper
10g Italian parsley, chopped
Method
Melt the butter with the olive oil in a large casserole dish.
When the oil is hot, brown the chicken pieces on all sides and remove from the pan.
Add the onions and bacon to the hot pan and gently fry until the onions are soft and translucent and the bacon is crispy.
Add the sliced garlic and cook for a further 30 seconds.
Remove everything from the pan and set aside, but leave the fat behind.
Stir in the mushrooms and fry for 5 minutes until they are soft and browned.
Pop the chicken, onion and bacon back in the pan and pour the white wine over it.
Bring everything up to the boil and turn it down to a gentle simmer.
Place the lid on the casserole dish and simmer for 15 minutes or until the chicken is cooked and tender.
Remove the lid from the pan, add the cream and turn the heat to full. Cook the chicken for another 10 minutes on high until the sauce is thickened.
Season well with salt and pepper and finish off with the chopped parsley.
Serve with creamy cauli-mash.