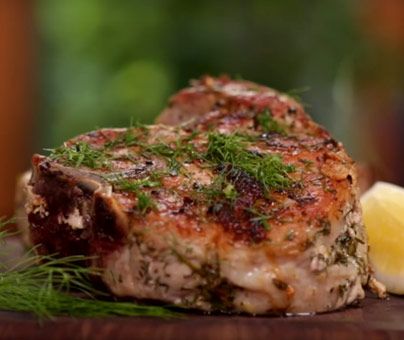 04 Oct

Melissa Clark's Porchetta Style Pork Chops

Melissa Clark's Porchetta Style Pork Chops – One of our favourite New York Times chefs shows us how to make pork chops that pack a punch!

Serves 2

Ingredients

2 thick cut pork chops
Salt and pepper
For the porchetta filling:
2 tablespoons chopped fennel leaves
2 tablespoons chopped rosemary
1 teaspoon fennel seeds, lightly crushed
½ teaspoon dried red chilli flakes
Zest of 1 lemon
2 cloves garlic, crushed
1 tablespoon olive oil and extra for frying.

Method
Preheat the oven to 200C.
Pat the meat dry and slice a pocket into the fat side of each pork chop.
Season the meat, on the inside and out with salt and freshly ground black pepper. Allow it to sit for 5 to 10 minutes.
To make the pochetta stuffing. Mix all of the ingredients together in a bowl with about a tablespoon of olive oil to bind them.
Stuff the filling into the pockets of the pork chops and rub a little on the outside of each chop.
Heat an ovenproof frying pan with some olive oil and fry the pork chops until golden on both sides. This should take about 5 minutes on each side.
Place the pan with the pork chops on the oven and cook for a further 5 minutes.
Cover the chops with some foil and allow the meat to rest for 5 to 10 minutes.
Serve with fresh lemon wedges and a sprinkle of fresh, chopped dill.
Sign up to get a new meal plan and five gourmet recipes just like this every week.