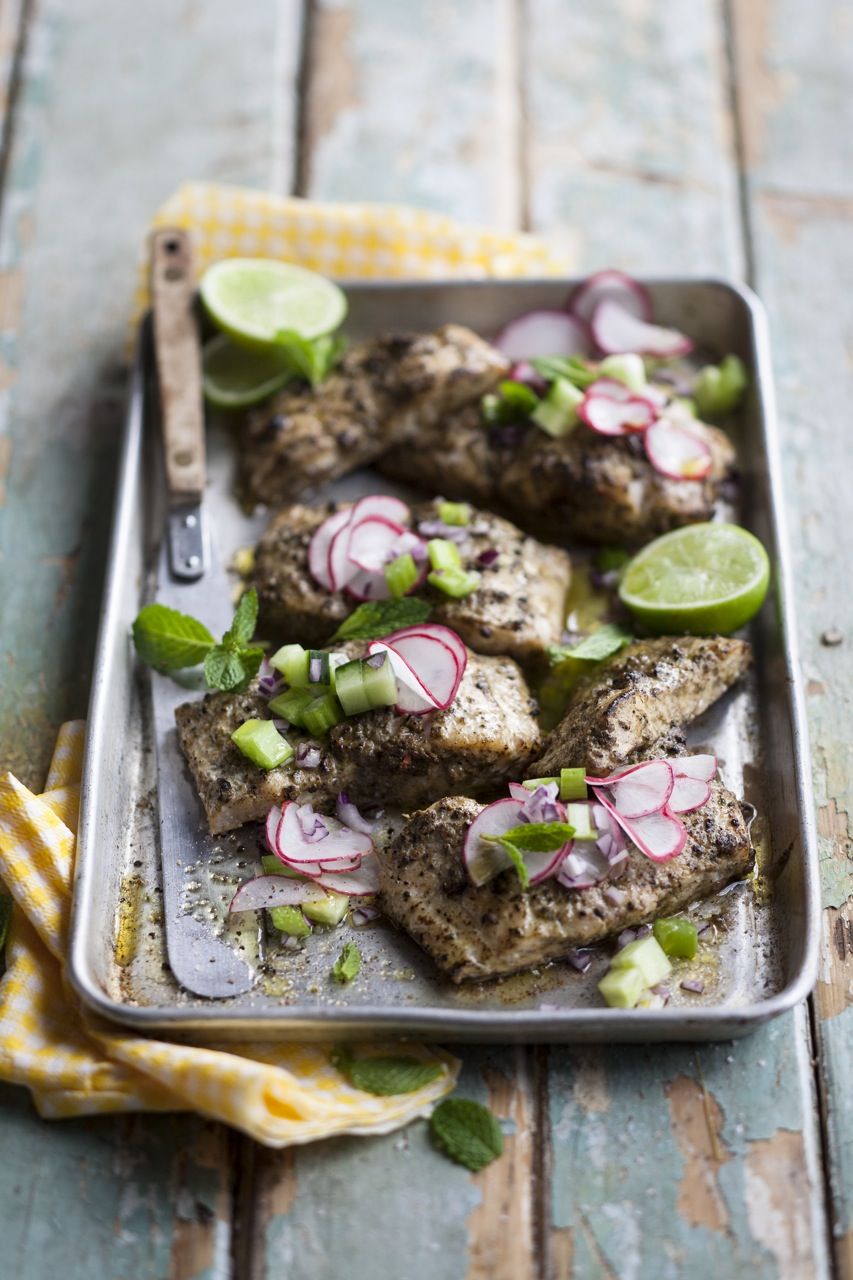 05 Jul

Low-Carb Jamaican Jerk Baked Fish with Cucumber and Radish Salsa

Jamiacan Jerk Baked Fish with Cucumber and Radish Salsa

No. You are not a jerk. Jerk is a Jamaican rub or paste that is used for fish but mostly chicken. Watch this vid of Jonno making it on fish with some delicious cucumber and radish salsa as part of the Low-Carb Meal Plan of the Week – Clean and Green! 

Watch full episode for Real Time

You can add this recipe to your shopping list, along with entire meal plans, on our online program. Find out more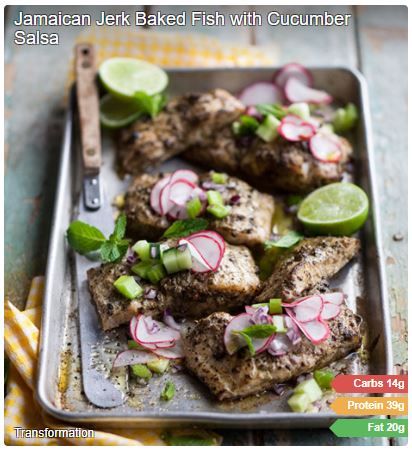 Jamiacan Jerk Baked Fish with Cucumber and Radish Salsa
Ingredients
For the salsa
¹⁄₂ medium cucumber (finely diced or diced)
2 stalks of celery (finely diced)
1 medium red onion (finely chopped)
3 small radishes ( thinly sliced)
40 ml lime juice
4 tbsp olive oil
1 handful mint (chopped)
Jerk Baked Fish
800 g fresh white fish (cod, hake, pollock etc.)
1 tbsp allspice berries
3 tsp, whole black peppercorns
¹⁄₂ tsp cinnamon
¹⁄₂ tsp cayenne pepper
2 tsp xylitol
1 whole bay leaves
¹⁄₂ tsp ground cloves
10 sprigs thyme (picked and chopped)
2 tbsp fresh coriander, chopped
1 whole red chilli ( deseeded and finely chopped)
1 clove garlic (finely chopped)
1 thumb ginger ( grated)
1 whole lime (zest and juice)
1 tbsp olive oil
2 tbsp dark rum (optional)
Method
Preheat the oven to 200°C
Cut the fish into four 200g portions
Pound the dry jerk ingredients in a mortar and pestle and then pour it into a food processor. Add the rest of the jerk ingredients and blitz into a smooth paste.
Massage the paste into the fish and leave it to marinate for about 30 minutes
Place the fish on a tray and bake for 10 minutes
While the fish is baking, make the salsa by combining all the ingredients in a bowl.
Serve straight from the oven.
Get this recipe, meal plans, shopping lists, low carb tools and more from our online program.
Download the Real Food Lists to find out what you can eat to actually enjoy losing weight.