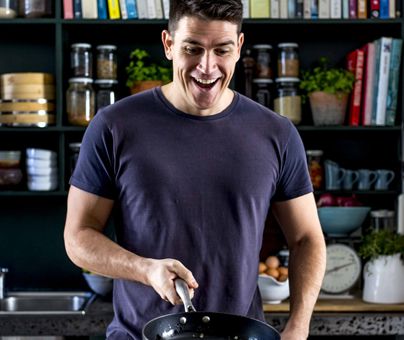 14 May

Low Carb Cookery Behind the Scenes

REAL MEAL REVOLUTION: LOW CARB COOKERY BEHIND THE SCENES

In April 2018, Jonno and his team put in some hard graft to bring you their greatest cook book yet. Currently in post-production, Low Carb Cookery boasts 300 low-carb recipes using the entire Banting Green List, he is quite confident this book will add flavour and inspiration to every low-carb convert around the globe.

Ever wondered what endive looks like and what to do with it?
Do you even know what to do with offal?
And then, what are you supposed to do with an artichoke?

These foods all sit on the Green List but until 2018, low-carb recipes have been focussed on replicating carbs using lower carb, gluten-free ingredients. In Low Carb Cookery, Jonno and his team set out to unveil the real way to eat low-carb to make it sustainable and delicious.

Jonno insists, 'I really hope this book helps us forget about expensive products, bars and shakes. I want to get readers fired up about cooking real foods, better and more often. This book, and Real Meal Revolution in general, are not about counting carbs, we stand for falling in love with food again and living a delicious life. Weight loss, curing diabetes, lowering blood pressure and whatever else are just side effects. That is the story I want to tell with this book'

And here are some snippets from behind the scenes of Low Carb Cookery.

If you're not up to scratch with the Banting Green List, you can download and get cooking right away.

Low-Carb Cookery is pure cookbook, zero science and zero diet advice. Just 300 unadulterated low-carb recipes. Keep an eye out for the book's release in October 2018.
Ps. All of the recipes from this book, and all of the other Real Meal Revolution books are available (and linked to the meal tracker, shopping lists, meal plans and more) for members of our online program.