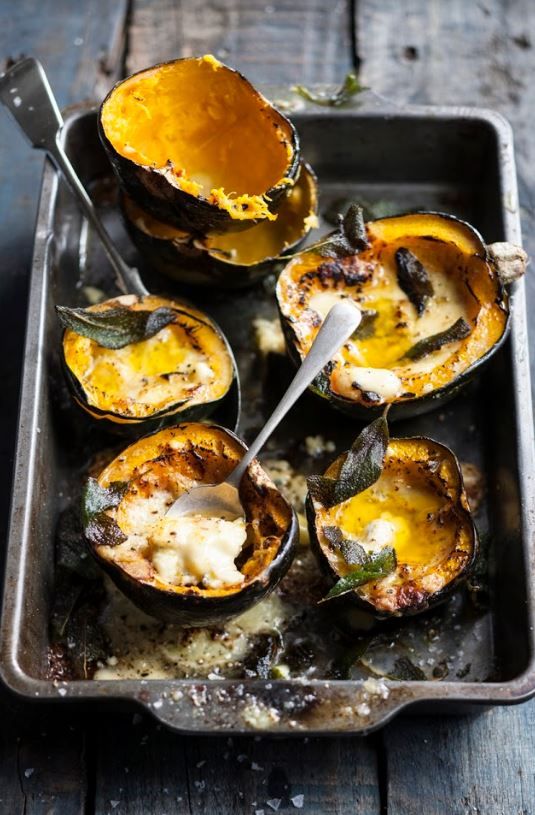 29 Jun

Low-Carb Blue Cheese and Sage Roasted Gem Squash

This gem squash recipe was invented in about 30 seconds on set while shooting The Real Meal Revolution. We shot something and we weren't happy with the recipe, so we axed it, but we needed to fill the place in the book with something else. There was some leftover blue cheese, some sage from something else, butter because we always had butter and there were a couple gem squashes in the fridge left over from the previous book that was shot in the studio.

This is the end result and it is honestly one of the best things you can do with a gem squash, in my opinion.

And here is the recipe:

Low Carb Blue Cheese and Sage Roasted Gems Squash (Serves 4)

Ingredients

4 squash squash (round ones, like gem – cut in half, seeds removed)
150 g blue cheese
100 g butter
1 cup sage leaves

Method

Steam or boil the squash until it is soft and tender (approx. 5-7 minutes)
Remove from the water and place in a tray
Crumble an equal amount of blue cheese over each squash
Melt the butter in a pan and gently fry the sage until it goes golden
Spoon the butter over each squash and pop under the grill until the cheese is dark brown, then devour. 

Get this recipe, meal plans, shopping lists, low carb tools and more from our online program.

Download the Real Food Lists to find out what you can eat to actually enjoy losing weight.