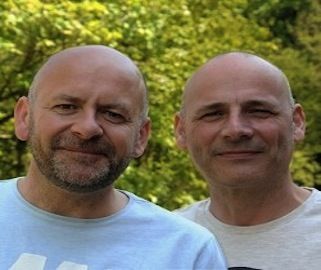 10 Aug

Jim And Paul Are Successful Banters Who Have Joined Forces To Offer Banters The Best

Jim and Paul are Successful Banters who have joined forces to offer Banters the Best

Jim Mc Creadie and Paul Melvin have both had their own successful Banting journeys, and they have come together to use their stories to guide fellow Banters. Jim and Paul have lost around 40kgs and 25kgs respectively, and Banting has given them both a new lease on life! They too want fellow Banters to feel this revived in their new lifestyle.

Thus, Jim and Paul have collectively started their own Real Group. They are both Certified Banting Coaches and their groups will be offered both face-to-face and online. With their combined experience and passion for Banting, members can get the support they need to be successful.

Below is some more personal 'banter' on their journeys:

Jim Mc Creadie:

Jim's journey is one that I'm sure is very similar to many people. As a young man,he was relatively healthy as he enjoyed sport and keeping fit. He also believed that being fairly active; he could pretty much eat anything that he wanted, without putting on weight.

Boy, how wrong he was. In his late 20's, Jim reached his heaviest, weighing close to 22 stones. He found it difficult to get up out of bed every morning no matter how much sleep he had. Jim was also a smoker, so he wasn't just tired from carrying all his excess weight, but his smoking was influencing his life too.

In 1996, Jim stopped smoking and regained a level of energy he forgot existed. This enabled him to do more exercise and lost around 20kgs. However, he still weighed around 18 stones, which was still more than he wanted to be. He read a book one day that explained why he had been getting progressively fatter. It outlined why the foods he had been eating, were responsible for his obesity.

Jim wanted to learn more. It eventually led him to The Real Meal Revolution and Prof Tim Noakes.   In April 2015, Jim completed the Real Meal Revolution Online Beginner Banting course and in 2016 when the opportunity arose to train to become a Certified Banting Coach, he jumped at the opportunity to be able to help other people make the same kind of change in their lives.

By changing the kind of food he was eating, gradually the weight dropped from 115kgs to almost 100kgs and is still falling. At 47 years old, he now feels fitter and healthier than he has in over 20 years.

Paul Melvin

Paul has used Banting principals successfully for over two years now. His story is one that many of you will recognize. He explained, 'As a skinny teenager I ate what I wanted and never put on weight. However, in my early 30's all my clothes started mysteriously shrinking in the tumble dryer. Or could it be that I was putting on weight? Every year, a few pounds went onto the scales, no matter how much I limited food.   By my early 40's I was struggling with my weight and now had a young family. I started to make a concerted effort with my weight loss. I spent a considerable amount of time and money on a multitude of diets; Guess what? Nothing worked long term.

Through these diets, Paul would lose a few pounds only to put it all back on again, and more to boot! Paul reached an impressive 18 stone 9lb at his heaviest and thought something had to give, not just the bed springs. Through extensive research, he found the LCHF Lifestyle and realized that this was the most rewarding.

Since embracing the LCHF lifestyle of Banting, Paul has only experienced positive outcomes. Paul is now 25kgs lighter, has more energy and no longer craves processed foods and bad carbs. Paul explains; 'I'm happier, sleep better and healthier than I can remember' .

For more "banter" on Paul and Jims's personal story and to see their "Real Groups" that you can join, visit their homepage.

There are currently 120 passionate and dedicated Certified Banting Coaches across the world, each with a unique approach to health and weight loss, in our system. To find a group that suits your specific needs.