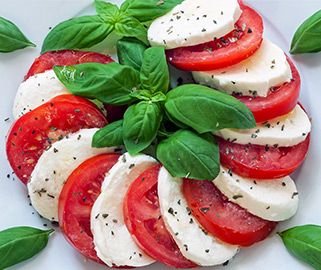 22 Dec

Edible Table Decorations

Entertain smart this year, by doubling up your starters as impressive table features.

Christmas is about entertaining, but mainly about sharing delicious food and time with loved ones.

We allknow how it goes – over-catering and being overly ambitious leads to being stuck in the kitchen, while your guests have fun without you.

You can cut down the prep time with this great idea:
Edible Table Wreaths
Focus on Christmas colours and turn individual starters into giant ones for everyone around the table to share. Not only will these make a huge statement, but they can also be prepared in advance.
Examples include:
Green, White and Red Caprese salad wreaths
On a large round platter repeat slices of tomato, mozzarella and basil until you have a circular pattern around the whole platter. Serve with balsamic vinegar, extra-virgin olive oil and seed crackers or Banting bread. You may also want to make your own basil pesto for extra pizzazz.
Cold meat, cheese and berry wreath
Layer rocket or other foliage around the platter in a circle. Place cheese wedges, and cold meats on top and scatter with red berries and nuts. Drizzle with extra-virgin olive oil. Serve with seed crackers, Banting bread and pates.
Let your creative juices flow and come up with your own table feature ideas– the sky's the limit. Share your table features with us on Instagram, we'd love to see what you come up with. Include the hashtags #realmealrevolution #bantlikeachamp.
Time is running out to take advantage of our Christmas special. Sign up for our 5-week online Banting Program in December and only start in January. As our Christmas gift to you, we'll throw in a 20% discount and a FREE TWO month subscription. Offer ends on Christmas Eve. So don't miss out.