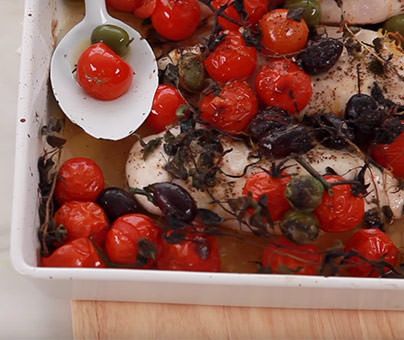 20 Sep

Donna Hay's Tray-Baked Chicken

We spotted Donna Hay making Tray-baked Chicken. Check out this nice and quick weeknight meal for the family. Served with a crunchy green salad.

Serves 4

Ingredients

4 chicken breast fillets (800g)
500g cherry tomatoes on the vine
½ cup (90g) mixed black and green olives
20g fresh oregano
1 tablespoon lemon zest
1 tablespoon lemon juice
2 tablespoons extra virgin olive oil
Sea and freshly ground black pepper

Method:
Preheat the oven to 220°C.
Place the chicken breast fillets in the centre of a large ovenproof baking dish.
Arrange the cherry tomatoes, mixed olives, fresh oregano around the chicken.
Sprinkle over the lemon zest and drizzle with the lemon juice and olive oil.
Season well with salt and pepper.
Bake the chicken in the oven for 18–20 minutes or until the chicken is just cooked.
Baste with the pan juices and serve immediately.