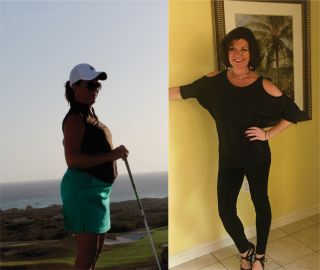 13 Dec

Work From Home Banting Cooking Business – Wendy's Story
The beginning of my Banting journey:
I first heard of the Real Meal Revolution in August 2015.  I was traveling to Aruba for my father's wedding, and I sat next to a lovely woman from South Africa. The most fascinating part of our conversation was about food.  She gave me a very brief explanation of Banting and left me with the phrase, "Real Meal Revolution." I stayed off the computer for the trip, but upon returning home, I started googling. I was raised in a very nutritionally aware family; we removed sugar from our diets when I was only seven years old, and I also have a degree in integrative nutrition. Even though I understood inherently that sugar was bad, the concept of Banting, insulin resistance and eating a high-fat diet for health, still went against everything I had learned.
I had been struggling with my weight and body composition for about seven years. In February of 2016, I weighed 10 pounds (4.5kgs) more than I did the day before I delivered my third child.  I was at 167 pounds (76kgs) and had a body fat percentage of 38 (the acceptable range for a woman is between 25 and 30%). Needless to say, I was really frustrated and defeated, so I was willing to open my mind to the new concept of healthy eating that Banting offered.
I joined the Real Meal Revolution's Online Program and also watched the scientific videos from the LCHF Convention. My husband and I were flabbergasted by the information.  We began eliminating carbohydrates from our diets and noticed that our bodies started to change.  We were not very disciplined in the beginning and kept going back to carbs, but it became easier to eliminate them as I began to realise that EVERY time I ate any high-carb food such as bread, rice or pasta I became bloated and miserable. I began Banting properly at the end of March 2016.  Removing the carbs became the easy part, my challenge was adding enough fat to my diet.  I had to get creative!
I figured out all kinds of yummy ways to get coconut oil into my diet. A great favourite was to freeze fat bombs into freezer trays, which I would pack into a cooler box, with other nibbles, when I traveled so I never felt the temptation to eat anything bad on the road. I don't have a huge sweet tooth, but I have developed a substitute for Reese's Cups (my weakness) just in case.  Since I started Banting, I have lost 37 pounds (17kgs) and more than 12% body fat. I have about seven more pounds (3kgs) to get to my goal weight.
I feel better, sexier, more powerful and more confident than ever. 
I just turned 47, and previously I was taking thyroid medication and bio-identical HRT for increased energy levels and potential weight loss. After changing my lifestyle to Banting, I no longer feel the need to take them.
The next step in my Banting journey as a Certified Banting Coach:
I recently became a Certified Banting Coach. I not only love what I do, but it is changing my life!
Each week I meet with an incredible group of women. I cook a delicious Banting meal for them and over dinner we chat, answer questions and support each other's journeys. These women inspire me, and we all teach each other something new each week. When dinner is over, I show them how to prepare new and different meals and send them home with recipes that I have tweaked, calling my creations "Wendy's Way."  Not only do we eat and learn, but we also weigh ourselves and take our measurements. It's amazing that each woman has lost weight under my guidance and, not only that, but their clothes fit better, and they feel better about themselves, which makes for a hugely dynamicenvironment. It's as if we have known each other for years, even though we are from all walks of life.
The start of my Banting cooking business:
It was during one of these evenings that I connected with a personal trainer, who made me realise the huge demand for homemade bone broth. The benefits of the broth are astounding, but it is time-consuming to make, so I now supply broth to people all over town.
Not only did this personal trainer help me see the need for specially prepared Banting-friendly meals, but I have also spent many nights on the phone with my friends, listening to their frustrations around preparing healthy meals for their families and being distressed about their family's poor eating habits.
I began to understand how lucky I was and what resources I had at my disposal. Not only did I love to cook, but I was also married to a Chef. And we both completely understood the value of a home-cooked meal for nurturing the body, mind, and soul.
My husband and I realised that he could help with recipes and I could cook during the day. We could create Banting meals, fully prepared, and ready for delivery or pick up.  The wheels began turning, and in a coaching session with a client in Arizona who is a marketing genius, I was challenged and inspired, and Chef Simplicity was born!
With every initial food order, the recipient is asked to clean out his/her pantry of all red-listed items and also receives a bag with the address of the nearest food pantry to deliver to.  I am working on getting a grant to help support an outreach program with the business where poverty stricken individuals can learn culinary skills and receive nutritional education for free.  Additionally, the goal is to designate a portion of the meals prepared to be delivered to these families weekly.
I have bone broth simmering on my stove nearly 24 hours a day, and I am experimenting with different flavors like Lemon Ginger Chicken and Tomato Rosemary Beef.  My husband and I have over two acres of land, which we plan to dedicate to chickens, for fresh eggs, and an organic garden next year. 
My Banting success:
I am now working with that personal trainer. Last week I began working on strength training, and she took my measurements, I weighed 130 pounds (59kgs) and had a 26.3% body fat (remember, I weighed 167 pounds before with 38% body fat). It amazes me how easy it was to get here with Banting!  I have never had so much energy during workouts in my life. Recently, I spent a weekend with my father, and he asked me a great question:
"Did you make a decision to adopt this way of life, or did you ease into it?"  My response was, "I decided I never wanted to wear a girdle again, so I made the decisionto Bant."
That was a small first goal, but when you have a goal that is reachable, you feel accomplished, when you achieve it. Once I began to see and feel the changes in my body, the goals changed as well.  Now I am working to build serious muscle and definition.
My Banting future:
I am really lucky to be connected to an amazing woman who is changing our educational climate in the USA, and worldwide, through STEM programs in schools. She has asked me to be part of a "food Stem" program. She and her team have realised that the food pyramid does not work and is, in fact, killing us all slowly. Together we are going to create awareness and education around Banting!
I am so enthused about what the future holds for me, the people I am coaching, and my part in impacting 100 million lives by 2025 with the Real Meal Revolution!
[/vc_column_text][/vc_column][/vc_row]