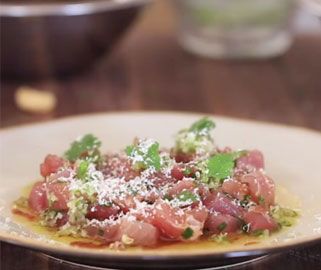 06 Nov

Byron Talbott's Ahi tuna poke

Ahi tuna poke

Serves 2
Ingredients:
For the tuna:
250g ahi tuna, trimmed and diced
5g fresh chives, sliced finely
3-4 tablespoons sesame oil
1 teaspoon grated ginger
1 teaspoon cayenne pepper
1 teaspoon paprika
½ teaspoon garlic salt
1 tsp lime zest
1 tablespoon Tamari soya sauce
1 tablespoon rice wine vinegar
For the green vegetable relish:
2 tablespoons minced red onion
3 tablespoons minced celery
3 tablespoons minced cucumber
2 tablespoons rice wine vinegar
3-4 tablespoons olive oil
1 teaspoon chili flakes
1 tablespoon chopped coriander
For garnish:
A few fresh coriander leaves
A drizzle of tamari soya sauce
3 or 4 cashew nuts
Pinch of salt
Method:
Mix together all of the tuna ingredients in a bowl and allow it to marinate for about 15 minutes.
While the tuna is marinating, make the green vegetable relish.
In a bowl mix together the ingredients for the relish.
Spoon the tuna into a bowls and drizzle with the green vegetable relish.
Drizzle a little bit of extra soya sauce on the plate, top with some coriander leaves and finish off with some grated cashew nut.
We add five new low carb recipes and one new Banting meal plan to our program every week. Find out more.