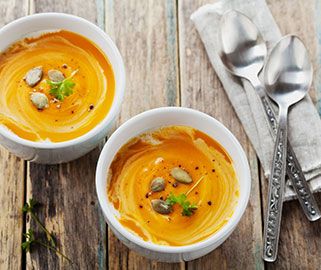 25 Oct

10 dairy-free ways to thicken foods without wheat

Going gluten-free, and dairy-free, with the Banting lifestyle does not signal the end of life as you know it. Ok, yes it does (but that's a good thing!) This lifestyle is so much more exciting than the one you had before – experimenting and whipping up magical dairy- and grain-free masterpieces can be so much fun!

With these ten options at your pantry's disposal, you can cook your way to nutrient-rich dishes with ease.

Pan reduction. The best way to thicken a sauce or gravy is to let it reduce until it thickens on its own and then to whisk in some chilled rendered fat, from chicken, beef or pork at the end. The rendered fat can be used to replace butter, but it should also be added in its solid state, so chill it in the fridge until solidified.

Egg yolk. Not only will eggs become your best-Banting-friend, but the yolk works wonders for making delicious and silky cauli-mash.  Eggs can also thicken up a "creamy" sauce. Add a touch of coconut cream or coconut milk to your egg yolk and whisk it together. Add the egg mix to the dairy-free sauce and heat it on low so that the sauce thickens without becoming curdled.

Ground flax seeds/ground chia seeds. These are both great for adding depth and volume to porridges and smoothies, as well as thickening jams and coulis. They both have a bit of a gummy texture, due to their ability to hold water, but they can work well as a binder for meatballs as they tend to keep them nice and moist. Start off with a small amount and workyour way up to the right consistency. (Remember only to grind flax seeds when you need them as they can go rancid if left to stand.) Ground flax seeds can also be used as a replacement for flour in baking.

Xanthan gum. A little goes a long way. This can add body to sauces and act as a binder in baking. But be careful of adding too much, as it goes jelly-like when added to liquid. A bit on the tip of a knife should be plenty.

Nut butters.These can add volume to smoothies, pancake batters and act as thickeners in desserts. They can also add depth and flavour to curries and sauces.

Psyllium husks. This soluble fibre not only increases the fibre content to your diet, but it is a great binder to crackers and breads. This also goes gelatinous when added to liquid, which is why it works wonders as a binder in savoury baked goods, but can be a little tricky to work with. For best results buy the whole psyllium husks and grind them in your coffee grinder, for a less gelatinous feel.

Pureed veggies/fruit. Pureed pumpkin/sweet potato/potato/cauliflower/tomato/banana/apple – pureed vegetables can be used to thicken soups, and stews, whereas pureed fruit can add volume to batters. Pureed pumpkin and sweet potato can add moisture to cakes.

Coconut flour/almond flour.These flours are generally the go-to Banting flours because they are readily available. Coconut flour absorbs much more liquid than almond flour, so in baking, you would either need less coconut flour or more liquid. They can both act as a binder for meatballs, fishcakes, wraps and rostis, as well as breading for fish/chicken/pork.

Coconut cream. Can add thickness to soups, stews and curries. Freeze coconut cream and whizz it with a high-speed handheld blender for a delicious non-dairy whipped cream.

Avocado. Avocado is a wonderful thickener for smoothies, adding a creamy, velvety texture, and can even be used to thicken dips and desserts, without imparting too much flavour.

You know the drill by now, as always when it comes to Banting, please factor in the carb-count of each ingredient, depending on what phase of Banting you're on.

Ten tips mean ten more ways to become a Banting-whizz in the kitchen. To add even more arsenal to your Banting repertoire join our Online Program for tons of recipes and easy-to-follow meal plans.