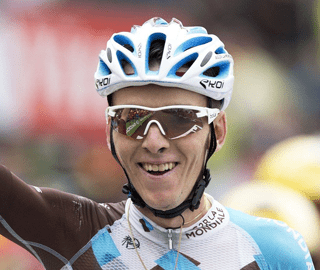 28 Jul

Tour de France Winners are Low-Carb Advocates!

Great news for LCHF is that the first and second place riders of the Tour de France are both low-carb advocates!

David Grech said, "This year's Tour de France was brilliant for the Low-Carb world. We have Chris Froome winning on a Real Food Lifestyle that appears, is incorporating low-carb healthy-fat strategies in his periods of training and recovery.

We also had Romain Bardet who after the final rest day was in 4th or 5th position and rode himself into outright second place by winning stage 19 of the Tour.

In what was a very physically aggressive and strong ride late in the tour no one else was able to match him that late into the tour.

He is happy to make it known he follows a low-carb approach. He has been working with Peter A. Defty from the OFM Program for a couple of years now developing his ability as a fat adapted athlete. Last year he came 9th overall, won stage 18 and took home the Combative Jersey. He will be one to watch in the next few years."

This article on how to eat like a Tour de France cyclist is fascinating and provides lots of insight into the way sport is evolving – much more focus is on diet for performance and health.

"We embrace science, but we also promote a natural approach to food," explains Dr. James Morton, head of nutrition at Team Sky and an associate professor in the Faculty of Science at Liverpool John Moores University. "Our riders eat food that grows in the ground or on a tree and protein from natural sources. They need energy, but they also have to stay lean and healthy with a strong immune system. A natural diet is the best way to achieve this."

Professional cyclists may boast spoke-thin physiques, but fat remains on the menu. "Fat is important for everything from energy release and muscle health to immunity, but by eating the right food the fat takes care of itself," adds Dr. Morton. "The riders eat eggs, milk, Greek yogurt, nuts, olive oil, avocados and some red meat for a natural mix of saturated and unsaturated fats."

In the months leading up to the Tour, professional cyclists have to shed weight. When you are cycling up an Alp, every kilogram of body weight counts. To achieve this, Dr. Morton asks them to "periodise" their carb intake by eating more when they train hard and cutting back when they're less active. They routinely train in the morning after eating a protein-rich omelette, instead of carbohydrate-dense bread, to encourage their bodies to burn fat for fuel."

Hold on to your hats, the world of nutrition is evolving at a rapid rate, and we're happy to have you along for the ride.

If you want to become a fat-adapted athlete, need advice on how to start Banting, or anything in between, we have 180 trained Certified Banting Coaches in our system, each with their own Banting story and unique skills, to help you achieve your goals. Join a group today.