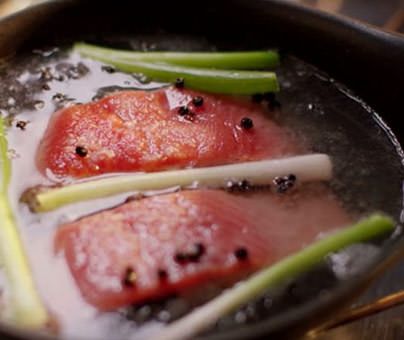 18 Sep

Nigella Lawson's Poached Salmon Salad

We spotted Nigella rocking a totally green listed Poached Salmon Salad recipe on BBC. Watch how she does it and get the recipe below.

Serves 2

Ingredients

2 x 180g portions of sock-eye salmon (or Trout in SA)

2 huge spring onions cut in half

2 teaspoons black peppercorns

1 whole lime

1/3 cup of pumpkin seeds

250g fresh watercress

A sprinkle of apple cider vinegar

1 ripe avocado

Method:
Place the fish portions in a deep heavy-based frying pan, skin side down.
Add the peppercorns, and enough cold water to just leave the top of the fish portions exposed to the air.
Squeeze in the juice of the lime and add a solid pinch of salt (maybe a teaspoon).
Bring the pan to a simmer or bubble and immediately turn the heat off.
Flip the fish portions and set the pan aside.
Pop the pumpkin seeds into a dry pan and let them cook on a medium heat until they pop, squeak and go a little bit brown before popping them into a pan to cool.
Now, remove the skin from the salmon and place them on a plate to cool.
Now make your salad – spread the watercress out in a bowl.
Scoop curls of avocado straight out of the skins onto the cress.
Then flake the fish into the bowl followed by the pumpkin seeds
Finally give the whole salad a glug of extra virgin olive oil and a crack of salt and black pepper
Jonno's tip: If you go easy on the salt, that cooking liquor will make the beginnings of a fantastic broth.
Want more recipes like this? We add five new recipes to our program every week.