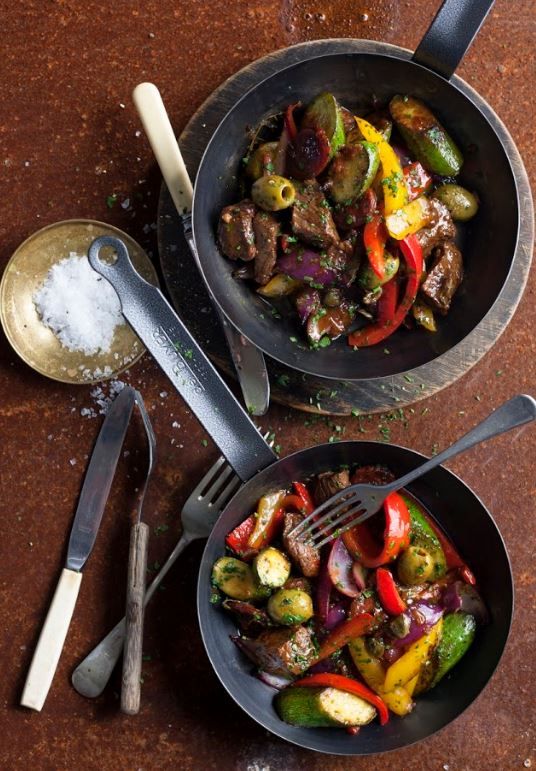 29 Jun

Low-Carb Trinchado with Sauteed Veg

Need some spice? This Low Carb Quick Trinchado was one of the recipes that featured in this week's low carb meal plan called, A Winning Week by Jonno.

Jonno says,  "The battle of trinchado was a competition that went on for all three years that I worked at GINjA in Cape Town, South Africa.  Our head chef didn't know it, but we used gather all of our beef offcuts and cook trinchado with some beef jus, lime juice and some paprika. It's probably nothing like a traditional trinchado but this is how we used to make it. "

The low carb meal plan based on how Jonno lives a week of low carb. Here is an excerpt of him cooking the trinchado.

And here is the recipe

Low Carb Quick Trinchado on Sauteed Veg (Serves 4)

Ingredients

400 g rump steak (cut into 25g cubes)
50 g butter
1 large red onion (roughly chopped)
1 tbsp garlic and chilli paste (any good quality one)
1 cup green olives (pitted if possible)
1 Lemon juiced
1 tsp smoked paprika (preferably hot)
1 handful flat-leafed parsley (roughly chopped)
40 g butter
1 large red onion (sliced)
2 medium red peppers (deseeded and sliced)
1 medium yellow pepper (deseeded and sliced)
4 medium courgettes (cut into quarters, lengthwise)
3 tbsp capers
1 cup beef stock

Method

First get the sautéed veg ready – melt some butter in a medium-sized frying pan, add the onions, peppers and courgettes and sauté them until they soften. Finally, add the capers and mix them through before serving
Get a large heavy-based pan smoking hot
Oil and season the beef cubes well. Tip them into the pan and leave them to colour without moving them
Once they have coloured on one side, use tongs to flip them over to colour on another side. If you move them around too much, they will not colour as well and will release too many juices. You may need to do this in two batches to prevent the juices coming out of the meat
Before the meat gets to medium-rare (2 minutes) tip the meat into a tray and cool
Using the same hot pan, without cleaning it, add the onions and the butter and sauté until golden brown
Now add the chilli and garlic paste and sauté until it becomes aromatic
Add the olives, beef stock, lemon juice and smoked paprika and boil until the sauce is reduced by half
Just before serving, add the parsley and tip the meat back in to warm through to medium rare/medium before serving

Get this recipe, meal plans, shopping lists, low carb tools and more from our online program.

Download the Real Food Lists to find out what you can eat to actually enjoy losing weight.