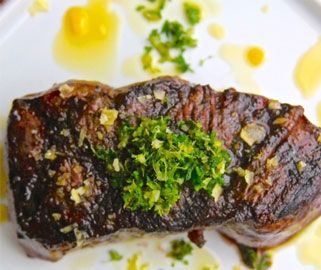 06 Nov

Fillet Steak Gremolata – Gordon Ramsay


Fillet Steak Gremolata

Serves 2
Ingredients:
2 x 250g beef fillet steaks
salt and pepper
2 tablespoons olive oil
2 cloves of garlic, smashed with the back of a knife
1 stalk of rosemary
5 stalks of thyme
2 bay leaves
200ml chicken stock
extra olive oil for plating
For the gremolata:
20g Italian parsley, chopped
1 clove of garlic, crushed
1 lemon, zest only
2 tablespoons capers, rinsed and roughly chopped
salt and pepper
Method
Season the steaks well with salt and pepper.
Heat the olive oil in a heavy based frying pan on a high heat and add the steaks to the pan.
Sear each steak for two minutes on each side until golden and caramelised.
Add the rosemary, garlic, thyme and bay leaves to the pan with the chicken stock.
Keep turning and basting the steaks as they cook for a further five minutes in the pan and the stock reduces to a thick sauce.
While the steak is cooking mix together the ingredients for the gremolata in a separate bowl. Season it well with salt and pepper.
Allow the steaks to rest for a few minutes and discard the herbs, carve them and place them on a plate.
>Sprinkle the steaks with the gremolata and spoon over the thickened pan juices. Drizzle with a little olive oil and serve.