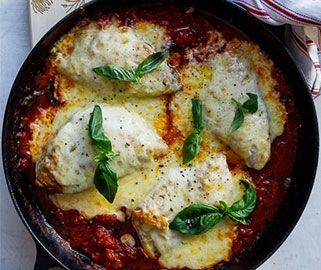 06 Nov

Alida Ryder's Easy Caprese Chicken

Easy Caprese Chicken

Serves: 4

Prep time: 10 minutes

Cook time: 20 minutes
Ingredients:
2 tablespoons olive oil
4 large chicken breast fillets
1x 400g (14oz) can chopped tomatoes
2 garlic cloves, thinly sliced
2 tablespoons fresh basil, sliced
1 cup grated mozzarella cheese
Salt and pepper
A handful of fresh basil leaves for garnish
Method:
Preheat an oven to 200C.
Heat a heavy based, oven-proof pan on a high heat on the stove and add the olive oil.
Season the chicken well with salt and pepper.
When the pan is hot, brown the seasoned chicken breasts on both sides.
When browned, remove the chicken from the pan and set aside.
Add the chopped, tinned tomatoes to the pan with the garlic and basil and allow everything to simmer together for 2-3 minutes.
Place the seared chicken breasts back into the pan and top with the grated mozzarella.
Place the pan in the preheated oven and allow to cook for 10-15 minutes, until the chicken is cooked through.
Remove from the oven and sprinkle with the fresh basil leaves.
We add five new low carb recipes and one new Banting meal plan to our program every week. Find out more.