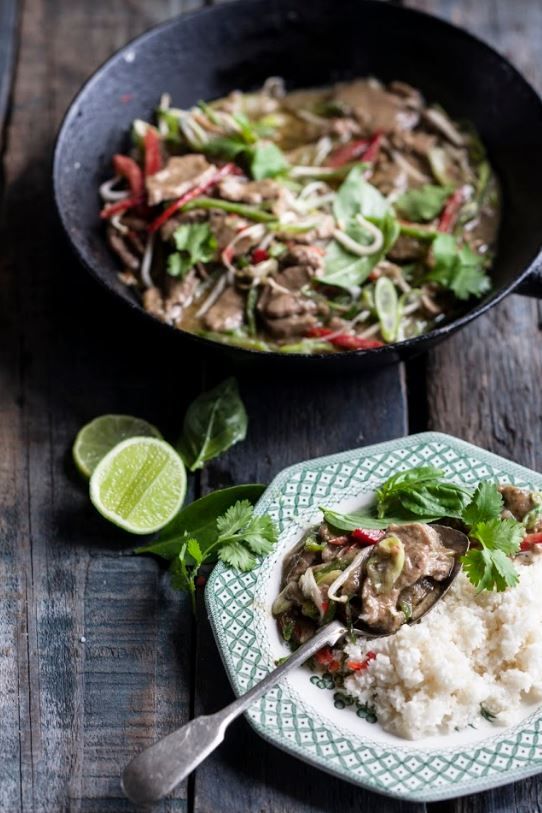 29 Jun

Low Carb Thai Green Curry Pork Fillet

This is a super simple thing to do with pork fillet, which can be an intimidating. If you cut it nice and thin, you can overcook the hell out of this and it will still be tender and delicious.

Here is an excerpt from the first episode of Real Time (our YouTube show) of Jonno showing us how it is done.

And here's the recipe

Low Carb Green Curry Pork Stir Fry (Serves 4)

Ingredients
1 clove garlic (finely chopped)
1 tbsp fish sauce
45 ml lime juice
2 tsp thai green curry paste
200 ml coconut milk
1 handfull fresh coriander (finely chopped)
1 cup fresh basil (roughly chopped)
1 tbsp coconut oil
350 g pork fillet (thinly sliced)
¹⁄₂ cup bean sprouts
80 g mange tout (julienned)
1 medium red pepper (deseeded and juliened)
1 medium spring onions (finely sliced)
50ml chicken stock or broth

Method

Combine the garlic, fish sauce, lime juice, chicken stock, curry paste, coconut milk and herbs together in a small bowl and mix well
Heat the oil in a wok and give it a swirl to coat the entire surface
Once the wok reaches a ferocious heat, add the pork and stir-fry for about two minutes or until the meat is cooked – then remove the meat to a separate dish
Place the wok back on the heat and add in a little more coconut oil
Now, add to the wok the bean sprouts, mange tout, spring onions and peppers and sauté them until they are almost cooked
Add the sauce mixture and boil for two minutes for the flavours to infuse. Then add back the pork and warm through
Serve immediately as-is or with cauli-rice

Get this recipe, meal plans, shopping lists, low carb tools and more from our online program.

Download the Real Food Lists to find out what you can eat to actually enjoy losing weight.