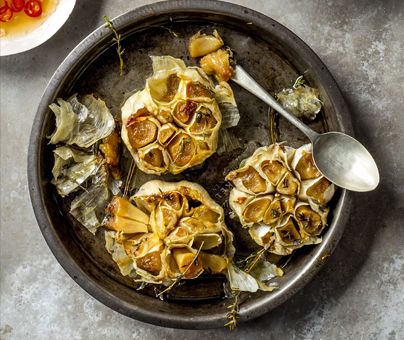 17 Aug

Low Carb Lesson – How to Roast Garlic
Roasted Garlic Goodness
In the bad old days I would have told you to smear this on your toast. Nowadays, my advice is to pop these puppies into any sauce, dip, casserole to give it that 'next level' richness and depth. It also works as a thickener, but probably not the best flavour for your toddler's cauliflower cheese.
I also highly recommend putting roasted garlic on the menu on any first date. If your date digs in, you can consider the food test passed.
Watch this video of me making it.
Take notes:
Roasted Garlic (Makes 3 heads)
Ingredients
3 heads of garlic, whole
3 sprigs of thyme
extra virgin olive oil
Method
Preheat the oven to 170 degrees celsius.
Cut the top off the head of garlic to exposed the flesh.
Pour the olive oil into the head so that it is 'full' of fat and top each with a thyme sprig.
Cover the heads in foil (individually or in a tray) and roast them for 1 hour. The cloves should be soft, brown and sweet.
When the head has cooled down, unwrap it and use a knife to break off the cloves and then use your fingers to squeeze the meat out of each clove into a jar or bowl.
Cover with olive oil and store in the fridge until needed.
Now smear that over everything.
Now that you know what to do with garlic, don't you need some recipes to test your new skill? And what about the shopping? And, do you know whether or not that's going to help you lose weight? We've got all that covered in our online program. Automated shopping lists. Meal tracking tools. 700 low carb recipes. You can find out more here.
And if you're keen to test drive it for us for a while, download the Banting / Keto Food Lists and stick them on your fridge. We'll be here when you're ready.