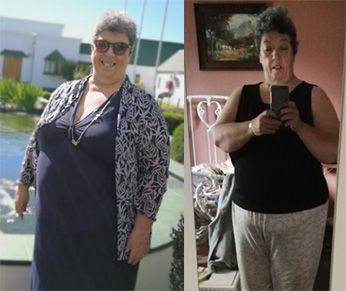 26 Mar

Interview with a Revolutionary

Interview with a Revolutionary!

"God and the AA saved my life. RMR made me enjoy my life to the fullest!"

Ingrid Collender is one of our active forum participants on the Real Meal Revolution Online Program.
Since October 2017, Ingrid has been working hard at sticking to the Banting Food Lists, with a few of her own allowances and the proof is in the pudding (or lack thereof).

Jonno caught up with her to find out what she is doing to own her Transformation.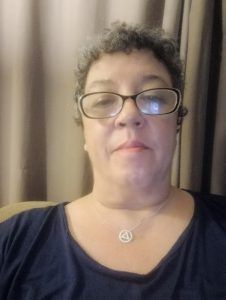 (Photo credit, Selfie) Ingrid Collender: RMR Member, Revolutionary, Legend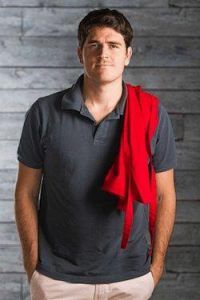 (Photo Credit: Sofia Dadourian) Jonno Proudfoot: Banting Guy
Ingrid's Stats:
Joined program date: 17 October 2017
Start weight: 145.5kg
Current weight: 125.1kg
Awesome Weight as calculated by RMR: 92kg
Personal target weight: 80kg (BOOM)
Jonno Proudfoot (JP): You've been owning it in the forum for the last couple of months. Congrats on your success so far. What made you join RMR?
Ingrid Collender (IC): Thanks so much!
Before I found Real Meal Revolution, I was completely exhausted. I am a type two diabetic.
My blood pressure was 160 / 110. My resting pulse was over 100pm. I was sleeping poorly, despite taking sleeping tablets and drinking whiskey and wine to sleep.
I was having palpitations, sweating with the slightest exertion, and I could barely walk 200m without being totally short of breath. I was also profoundly depressed.
I was contemplating suicide, and I soon accepted that I was dying. It was not only my weight that was killing me, but my addiction to alcohol and sleeping pills.
(JP) Where did you hear about our program?
(IC): I bumped into a colleague – a ICU nurse who specialised in cardiology. She suffered with familial hyperlipidaemia, and whose total cholesterol had fallen from over 20 to 8! She also looked terrific and glowing with great health. I was sold on Banting.
(JP): So, our Awesome Weight Calculator told you your Awesome Weight is 92kg, but you've set your sights higher (well, lower) than that, at 80kg. What made you set such an ambitious goal?
(IC): I went into rehab and came out a changed person. It was to be another 4 months before I decided to Bant. I had tried Banting before, with poor results, mainly because of my drinking habit. I saw that the RMR program was also on offer at 50% less was a no brainer!
I would like to interject here that Weigh-Less is over R400pm currently, so RMR is terrific value for money.
Basically, I knew that if I was going to regain and take control of my health, something had to give with the weight.
(JP): Since you made your commitment to Transformation, what support structures have kept you accountable to make sure you deliver?
(IC): My husband is my biggest cheerleader. He cooks most of the meals, and is careful to keep my carb count low. My youngest daughter keeps calling me skinny, and the eldest brings me low carb snacks.
I read labels.
Do not be lured by Carb Smart and "Banting" labels. There are often emulsifiers such as rapeseed, and "seed oil" – such as sunflower oil.
My AA group is also extremely important. I apply AA principles (12 steps) to my lifestyle 100%. And it works! My home group is my other family!
My closest work colleague also closely follows my progress, keeping track of WAM Wednesday.
(JP): Tell us about your habits around food. Of the food you eat, how much do you prepare yourself, and how much do you buy ready-made?
(IC): I buy my seed crackers, but after that, I buy no premade foods at all. They are expensive, and are not as nice as a home cooked meat or bread.
I keep it real.
I make kombucha for pennies, and enjoy it. We also make our own pickles and sauerkraut. Delicious! I have a weakness for biltong, and have had weight stalls because of it. I do know the maker of the biltong, and he makes his own spice mixtures. I guess it is just too much protein. I also make bone broth and enjoy this and look forward to winter for good soups! I got some kefir grains, but have not put it to use yet. I want to make cheese with this.
Getting your hands dirty is key to Banting success, I believe.
(JP): Tell us what a day of eating used to look like, before you joined Real Meal Revolution.
(IC): Hah! Chaos!
I used to eat at the cafeteria, so whatever was on offer. Vetkoek and mince for breakfast was a favourite. Crisps and a DIET COKE for tea. (Oh my greatness, the irony!) Loads of carbs for lunch…and then supper.
White bread! Margarine! Cheese by the slab – a habit I have retained, but now by the slice. It does not seem to adversely affect my weight loss.
I never had a sweet tooth, but I would have 2-3 packets of crisps a day.
Not to mention at least a bottle of wine and a good 5-6 whiskies a day.
(JP): And now that you're on the road to your awesome weight?
(IC): I try to eat when I am hungry. Often I have no breakfast. If I do, it would typically be bacon and eggs. Or chia seed porridge – yum! Occasionally, a bullet-proof coffee if I have not eaten supper the previous night.
Lunch would be left over supper – a small portion of protein – chicken or beef stew and salad.
I do not drink milk – only cream on occasions I drink coffee.
I still use xylitol in my drinks. I also drink apple cider vinegar, lemon and himalaya salt in warm water in the mornings.
Take trouble to prepare delicious food.
(JP): There are different approaches to keeping carbs low. Do you follow meal plans, track your meals, freestyle with the lists or a combo of all three? What's your approach?
(IC): I do not stress out about meal plans and meal tracking, but when the weight loss stalls, I do track. This is enough to get the stall moving again.
I occasionally stray from the strictly green list – I love my beetroot and will even nab a roast potato with the family. Hubby does them in duck or chicken fat…cannot resist. I do keep it to a half a tatie.
Life is for living. I wasted a lot of time, and I intend to make up for it.
But 95% of the time, I am very good, and manage to keep my carb intake well below 30g. I eyeball it.
To me, fasting is the key.
(JP): Apart from the foods you have given up, what other changes have you made to your lifestyle?
(IC): Gee, to say my life as done a 180 in the past 9 months (I have been Banting for 5 months) is an understatement.
When I am working, my routine is strictly ordered. I wake at 04:45. This was true to my previous chaotic life.
I have added the following. Vinegar water, while I have quiet time meditating.
Hit the road at 05:30. Home by 16:00.
Socialise with friends, and go to AA meetings twice a week. Eat dinner with family if I am hungry, bath, read and bed by 21:30.
This routine was non- existent before. I did not meditate or pray, which is central to my life now.
I am a couch potato, but I find myself being far more active. I am trying to get into yoga. I track my steps on my phone.
I want to look good and take care with my appearance. Even at home, I used to lounge in my PJs all day. Now I get dressed, comb my hair and almost always have at least a bit of lipstick on.
I am proud of who I am and who I am becoming. I am kind to myself, where previously, I could not bear to look at myself in the mirror.
(JP): What tricks can you teach us about dining out and socialising and staying strong?
(IC): Do they have steak or salmon on the menu? If so, it is a winner!
No chips – salad or veggies please.
I love salads and always have done. I often have this as a main meal. We often do breakfast, and I will opt for an eggs florentine, or eggs benedict sans the muffin – Mugg and Bean do an awesome courgette fritter instead of the muffin.
If it is a place I dont know, I will check Zomato (a restaurant rating site in SA) and the menu and decide what to eat beforehand, and stick to my guns when we get there.
Do not even look at the menu. Do have a backup though in case the dish is out of stock as happened once!
We do not eat out that often though. We feel we can cook gourmet food at home at the fraction of the price.
Eat something small before you leave, so you are not tempted to eat everything in sight at a buffet! Keep your goal in sight.
(JP): What is the toughest part of this Transformation for you?
(IC): It is not so tough for me as it is for my husband. He does almost all the cooking (he is retired, and stays at home while I support him in the manner in which he has become accustomed!). He has not lost the idea that I must have a filler – ie: starch. I try to tell him that I just don't have that big an appetite anymore. Cauliflower and broccoli are hellishly expensive at the moment.
This dichotomy in eating habits has caused some friction in the household in the past. He weighs a perfect 70kg and eats what he wants without getting fat.
(JP): Tell us about some of the tools you're using to track or improve your results?
(IC): My scale. My tape measure – and have lost 28cm off my waist!
I take full length selfies in the mirror with each 5kg loss recorded.
I try to wear the same clothes when doing so, but the pyjama pants I wear are going to be a puddle on the floor in 10kg from now!
Knowing your numbers is an inspiration to keep going.
I feel so terrific, I am NEVER EVER going back to where I was! EVER!
(JP): What are the greatest benefits you have experienced since you joined Real Meal Revolution?
(IC): I track my blood pressure and blood sugar – completely normal levels! By BP is about 130/80 (160/110 previously) I have stopped checking my blood sugar, but my HbAIC is around 5.
My energy is boundless. I no longer sweat constantly, at the slightest exertion.
I still get a bit out of breath, but that is after pushing myself to hurry.
I like my glowing skin, and that I look younger.
And I am blown away by the profile in the mirror – who knew 20kg could make such a difference!
(JP): What else do you love about Real Meal Revolution?
(IC): EVERYTHING! I love the recipes – the Pork Larb salad, chia seed porridge, coconut bread and Smokey Fish Pie are firm favourites!
God and the AA saved my life. RMR made me enjoy my life to the fullest!
(JP): Ingrid, you're a legend. Thanks so much for sharing your success with us. We'll follow up with you when you crack the 100kg mark. I won't wish you luck, because you're making your own luck. Courage and determination to you 🙂