28 Jul

Sam Bell

Sunningdale Drive
Cape Town, Western Cape 7441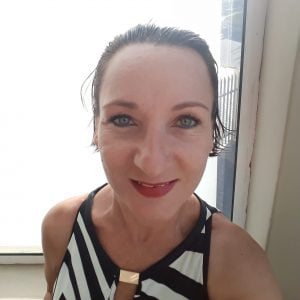 Sunningdale Drive
Sunningdale
Gauteng
South Africa
7441
Qualifications:
Certified Banting Coach
Certification Date: 5 May 2016
I hit a difficult patch in my life when the pressures of a demanding job and stress in my personal life became overwhelming. I turned to food for comfort, but my appetite seemed insatiable and cravings for sweet treats became especially hard to control. I ballooned from a loose size 8 to a tight size 16. My sleeping patterns became erratic; I had constant acne breakouts; I was experiencing debilitating heartburn and ongoing stomach problems. I caught every bug around the office and I had swapped exercise for 12-hour days at work. I struggled to concentrate for short periods and found simple work activities challenging. The condition I struggled with most was my emotional state; the smallest thing could trigger an angry response or a weeping outburst – almost daily.
In January 2014, I contracted severe bronchitis and ended up on a ventilator, which was a huge wake-up call and a turning point in my journey towards good health. A year later, I heard about Banting, but it was only the negative press, which caught my attention. Then I began to hear many positive comments and anecdotes, which piqued my interest enough to buy the Real Meal Revolution book.
I started Banting in October 2015 and lost 15kgs and 3 dress sizes in 2 years. What really sold me on the benefits of this lifestyle are the disappearance of my chronic conditions; the financial savings on my medication and doctor's bills; my reclaimed mental health and a dramatic improvement in my emotional well-being.  I have a burning desire to show others the extraordinary life waiting for them.
Anecdotes to share:
My husband lost 20kgs, loves the food and is now a long distance runner;
My sister's Crohn's disease is under control after a year and her insomnia is infrequent;
Group member Fiona lost 44kgs in 12 months, and kept it off;
Group member Johanita lost 20kgs in 12 months, and kept it off;
Join my support group and I will share with you the science of achievement and the art of fulfilment.  My structured coaching program and defined goals educate you and hold you accountable.  I guarantee an improvement in just 3 months or your money back.