31 Jul

Leaine Brebner

Woodstock
Cape Town, Western Cape 7925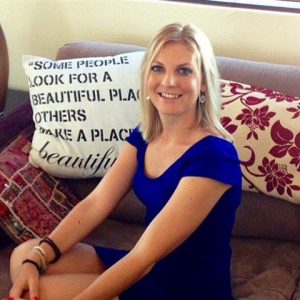 Woodstock,
Cape Town,
7925
Qualifications:
Certified Banting Coach
Certification Date: 1 September 2015
My name is Leaine Brebner, and before taking my journey further and becoming an Eating Psychology Coach, I was Head of Content and Support at Real Meal Revolution.
While on the support team I coached our members through the new phased approach, which I had a hand in contributing towards. I became particularly fascinated by how lifestyle and emotions can play a role in weight gain. And it was through interacting with members and guiding them on their own journeys that I really discovered where my passion lay, and which led me towards becoming an Eating Psychology Coach.
Before I moved over to the support team, I was Head of Content, writing articles and creating meal plans for the company. I am hungry for knowledge and I love researching and discovering as much as I can about the human body, LCHF, and the reasons behind why we as a society are becoming sicker and heavier with each passing year.
I feel that diet and emotions go hand in hand and that it's equally important to address the emotional side of eating. I have discovered that each person's weight loss journey is unique, and women, in particular, need a lot more than diet to help them lose weight (especially if they have tried LCHF or another diet before). Addressing the emotional side of eating, lifestyle and poor gut health, in conjunction with adjusting the diet to LCHF, are all necessary elements when it comes to healing the body and keeping the weight off.
Before I started at Real Meal Revolution I had my own business, called Sweet Like Candi, baking gluten-free, sugar-free LCHF cakes, desserts, and savoury foods for individuals, companies and market days. My main focus was being able to give children with food intolerances and diseases such as coeliac and diabetes the chance to have a sweet treat or a birthday cake. (Although it gave me great joy to be able to bake for anyone following an LCHF lifestyle).
Before I started my business, Sweet Like Candi was a blog dedicated to living with Candida, which I was diagnosed with before starting it. Before that my blog, Leaine's Kitchen, was dedicated to helping people with food intolerances. I love to cook, and an exciting challenge for me is being able to make delicious food for people with a limited ingredient repertoire. My own health journey goes back many, many years – it feels like I am on a lifelong journey back to health, and my journey involves helping people on their own health journeys as I heal myself. I have since reversed my Candida and my food intolerances on an LCHF diet. To read more about my journey, go here.
I want nothing more than to help you become the best that they can be, through my own experiences and the knowledge I have gained along the way.
If what I have said above resonates with you, join my group so that we can start healing together.
Yours in health and happiness,
Leaine
"Leaine knows weight loss and holistic health better than anyone in the business. She has walked her own journey and helped hundreds of Real Meal Revolution clients through their own transformation while doing so (with rave reviews).

If you are struggling with weight loss, or about to embark on your own health revolution, I strongly recommend you get coaching from Leaine. You'll thank me later."

Jonno Proudfoot
"Wow thank you very much again. You make so much sense when you write and it's very encouraging to hear your thoughts and support. I really appreciate the honest and clear way you deliver your message so thank you again."

Fiona

"Hi Leaine, I loved your story, thanks for finding the courage to share it. It makes such a difference to learn about the person behind the name! I have battled candida since I got ME nearly 30 years ago and have taken care of my gut health since then. The fact that it is a vital part of Banting and Banting 2.0 was one of the factors that convinced me to start Banting nearly 1 year ago."

Jeanne
"I believe having the contact with you, and just knowing it is there makes a big difference. I don't feel alone and when I am unsure I have someone who is experienced I can ask! It is the difference between success and failure! Very grateful!"

Sherry