21 Jul

George Gericke

Okura River Road
Albany, Auckland 0792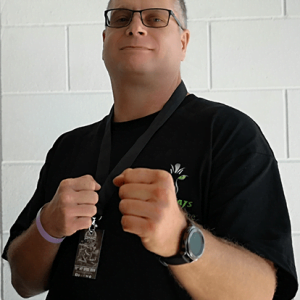 Okura
Albany
Auckland
New Zealand
0792
Qualifications:
Certified Banting Coach
Certification Date: 19 March 2018
Certified Personal Trainer – Exercise Academy
Certified Personal Trainer – Max Fitness
R.E.P.S. Registered Personal Trainer
Kickboxing – 4th Degree Black Belt
World Taekwondo – 4th Degree Black Belt
Shidokan Karate – 4th Degree Black Belt
From age 7 to 29 I have always been a very active in Kickboxing, Taekwondo, Karate, Judo, Athletics, Running, Rugby, name it and I competed in it, except Cricket, I don't like Cricket. From age 29 I spent most of my time advancing my career and less time being active and around the ripe old age of 35 I stopped doing any physical activity.
In 2012 (at the age of 35) we relocated to New Zealand. As my job required hours of commuting and sitting at a desk, I started gaining weight rapidly and I ended up with a weight of 145kg in 2016. During this time I needed some additional life insurance and had some tests done for the additional cover only to found my cholesterol was through the roof, as well as I had high blood pressure and an underperforming thyroid.
One morning in April 2016, I woke up feeling totally numb on my left side, my whole left side of my face did not work at all, I thought I am having a stroke but was eventually diagnosed with Bells Palsy. To add injury to insult, in 2017, I slipped off the stairs at work and sprained my ankle. This resulted in me being off my feet for about three months.
In 2017 a friend introduced me to RMR & Keto. I decided to gave it a go and lost 10kg in three weeks, without any exercise. I was feeling great. We cleaned out all the bad foods and replaced it with good foods. Just as I was getting a bit healthier and lighter, I had to be back at work and back in the rat race, I regained all my weight and fell off the wagon.
In January 2018 as a family, we decided to move to Auckland and have a total change to our health and lifestyle. Banting at 100% I have lost all the excess weight and obtained my goal of 95kg.
Having all the T-Shirts on gaining and losing weight, being active and being lazy, I am sure I can help spread the word and help others like me to Decide, Commit & Succeed in living a healthier and fitter lifestyle.
Please visit my website www.shidokannz.com | Facebook page https://facebook.com/shidokannz | Instagram https://www.instagram.com/shidokannz/ | E-Mail: [email protected]