19 Jul

David Daffey


Sydney, New South Wales 2011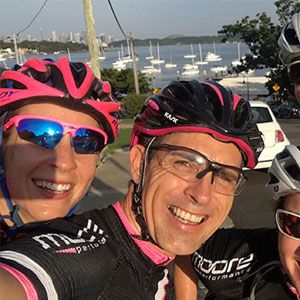 Sydney, New South Wales
Australia
2011
Qualifications:
Certified Banting Coach
Certification Date: 8 April 2016
Club & Community Triathlon Coach 2017/18
A Banter's Life is about teaching you about Sugar (and other Carbs) and their effect on You. As a Certified Banting Coach, I teach people how to live a healthy life based on the worldwide and hugely successful health change program called the Real Meal Revolution.
It's about showing you that there is a way to live without being handcuffed to sugar. In the process, you'll be doing your body a favour. I love food. It is one of life's simple pleasures. But knowing which foods to eat and why seems a constant challenge….well it was for me. Despite completing a university degree in Sports Science and following through on what I had learned for 20 years, I recently decided there had to be a change. After turning 40 it seemed harder compared to the previous year to maintain my own healthy weight. I was still regularly exercising – in fact, I was competing in Ironman distance triathlons swimming, cycling and running 226 kilometres in one day in close to 11 hours – but I found it was getting more difficult to stop eating my favourite foods without putting on more weight.
Do you relate? Maybe you are heavier than you'd like to be? Are you tired of going to the gym or logging exercise sessions aimed to offset those extra kgs you are carrying, only to find you get more hungry and eat even more?
A Banter's Life arms you with the correct knowledge, knowledge that could very well save your life. You will learn what Banting is and how you can start to feel well and truly nourished just by eating real food that tastes great.
We will then work in a coaching environment to support each other achieve those goals that are important to you. You will learn from ordinary people who have at one time been right where you are now.
Our Online Platform provides you with all the tools you need to learn how to Bant successfully and be a part of a group of like-minded people.
In this group, you will learn
– How to follow a Low Carb, Moderate Protein and High Fat eating Lifestyle
– A way to return to how our ancestors ate
– Healthy eating of unprocessed real foods
– Avoidance of refined sugars, carbs and seed oils
– Reversal of insulin resistance, type 2 diabetes and obesity
– Improved health and well being through food
If any of this sounds like you, then join A Banter's Life and learn how to Bant and enjoy life (and sport) for the pure pleasure it provides!